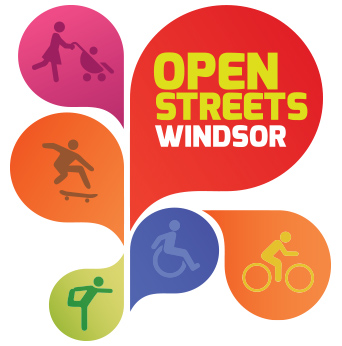 It's once again time to join the community in enjoying the largest free recreation program in Windsor's history!
On September 17, 2017, with new extended hours of 10 a.m. to 5 p.m. a designated route will be closed to vehicular traffic and open to people of all ages and abilities to enjoy. The Open Streets trail spans approximately 8 kilometres and will connect business districts and residential neighbourhoods all the way from Sandwich Town in the west to Ford City in the east.
New this year – Ontario 150 Celebration!
That's right! We have an entire hub at Open Streets dedicated to Ontario's 150th Anniversary and the magnificent history and diversity in our community. Visit the Ontario 150 Hub on University Avenue between Bruce and Janette. Learn about using 3D printing to create a model of our provincial flower – the Trillium. Take a break from the route to sit and enjoy a musical or dance performance by one of our many multicultural groups. View the Museum Windsor and First Nations exhibits or join in with everyone painting a mural. Enjoy a cookie as you celebrate Ontario's 150 with your friends, family and neighbours.
Additional hubs all along the route will include a host of fun and family friendly activities, from music, popcorn and games in Sandwich to arts and crafts, giant Jenga and a rib cook-off in Ford City.
For a complete list of activities and to learn more about Open Streets Windsor, call 311 or visit www.citywindsor.ca.
Open Streets Windsor is funded [in part] by Ontario 150 and the City of Windsor.
Open Streets Windsor est financée [en partie] par le programme Ontario 150 et la Ville de Windsor.
Location
Open Streets Windsor designated route
Various streets from Sandwich Town to Ford City
Windsor, Ontario