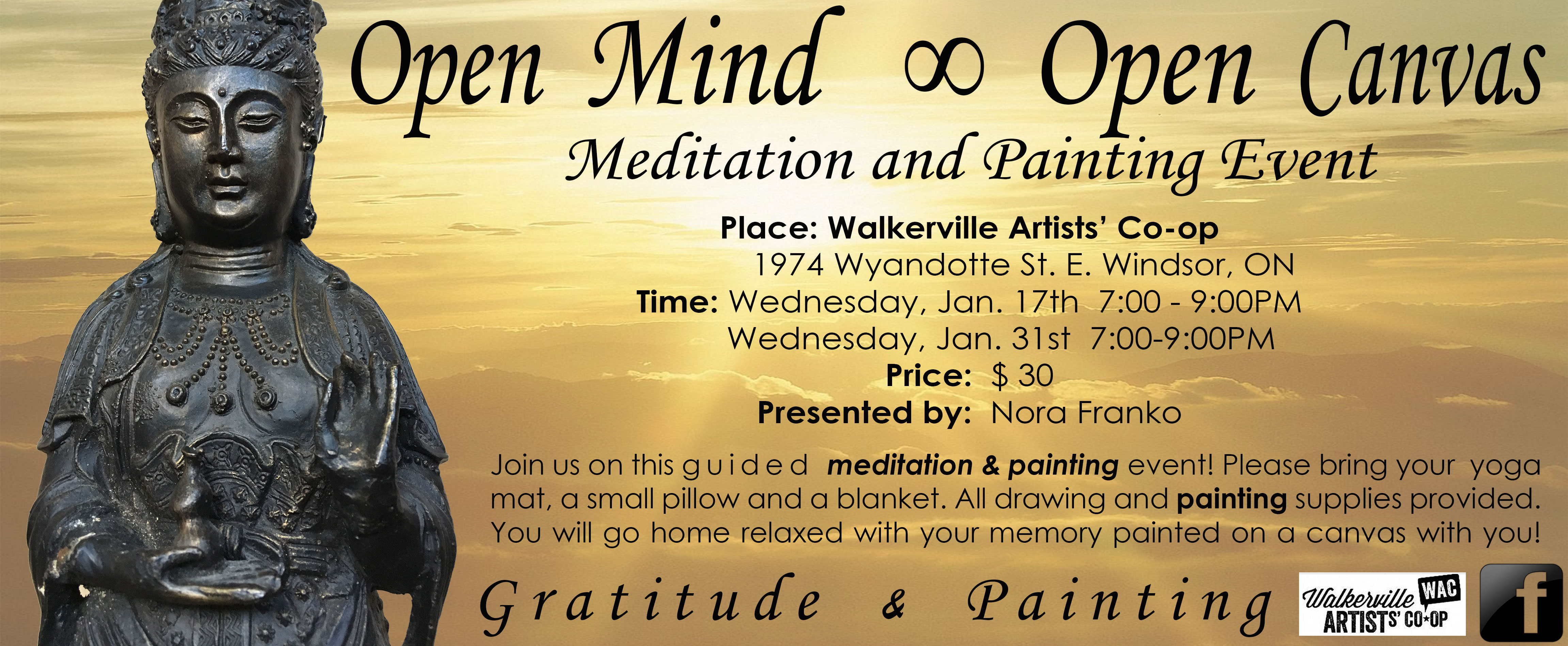 Please join us on my next Meditation and Painting Event
Place: Walkerville Artists' Co-op
Address: 1974 Wyandotte St. E. Windsor, ON N8Y 1E4
Time: Wednesday, January 17th 7:00-9:00pm
Wednesday, January 31st 7:00-9:00pm
Price: $ 30
Tickets can be purchased at the door if there are any left the day of, I suggest you purchase in advance so I have enough canvases and paint for you! You can register on my Facebook pages: Art By Nora Franko OR Open Mind Open Canvas OR at the Walkerville Artist' Co-op OR on the FB event page: https://www.facebook.com/events/319855905165120/
Meditation & Painting will be a very relaxed event continuing on a biweekly basis with many unique art activities. I would love to share my passion with you and take you to this wonderful place inside your mind where you will find peace and creativity through a very relaxing atmosphere.
Come with an open heart and give yourself this gift of relaxation!
The event will be a guided meditation (for approx. 45 min) listening to my voice and the wonderful music around you. Please, bring your yoga mat, a pillow, perhaps another small pillow for your feet and a blanket. Please wear very comfortable clothes as we will be taking deep breathes in and out. Please do not eat anything heavy and try to have your dinner two hours before meditation. I encourage you to follow this in order to fully enjoy yourself and dedicate your time and body to this relaxation sensation. After our meditation, a short amount of time is allotted for stretching and using the bathroom before we begin to draw/paint. Once you are ready, you will have a seat, or stand if you prefer by the easel and you will start to draw and paint your vision you have seen during your meditation. I will be very happy to help you all the way through your drawing and painting stages. Participants will be taking their drawing and/or painting home with them as canvases are provided. I am anxiously looking forward to guiding you through this meditation and your drawing/painting creation.
Thank you for participating and spreading the word!
Many Blessings! Nora
Location
Walkerville Artists' Co-op
1974 Wyandotte St. E. Windsor, ON N8Y 1E4
Windsor, Ontario