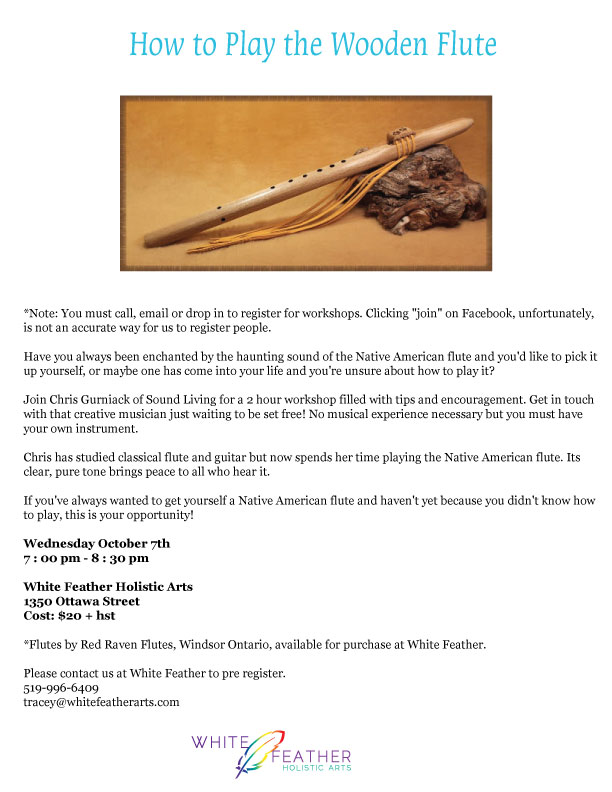 How to Play the Wood Flute
with Chris Gurniak
*Note: You must call, email or drop in to register for workshops. Clicking "join" on Facebook, unfortunately, is not an accurate way for us to register people.
Have you always been enchanted by the haunting sound of the Native American flute and you'd like to pick it up yourself, or maybe one has come into your life and you're unsure about how to play it?
Join Chris Gurniack of Sound Living for a 2 hour workshop filled with tips and encouragement. Get in touch with that creative musician just waiting to be set free! No musical experience necessary but you must have your own instrument.
Chris has studied classical flute and guitar but now spends her time playing the Native American flute. Its clear, pure tone brings peace to all who hear it.
If you've always wanted to get yourself a Native American flute and haven't yet because you didn't know how to play, this is your opportunity!
Wednesday October 7th
7pm – 8:30pm
White Feather Holistic Arts
1350 Ottawa Street
Cost: $20 + hst
*Flutes by Red Raven Flutes, Windsor Ontario, available for purchase at White Feather.
Please contact us at White Feather to pre register.
519-996-6409
[email protected]
Location
White Feather Holistic Arts
1350 Ottawa Street
Windsor, Ontario