Date
Saturday October 24th, 2020
Time
3:30pm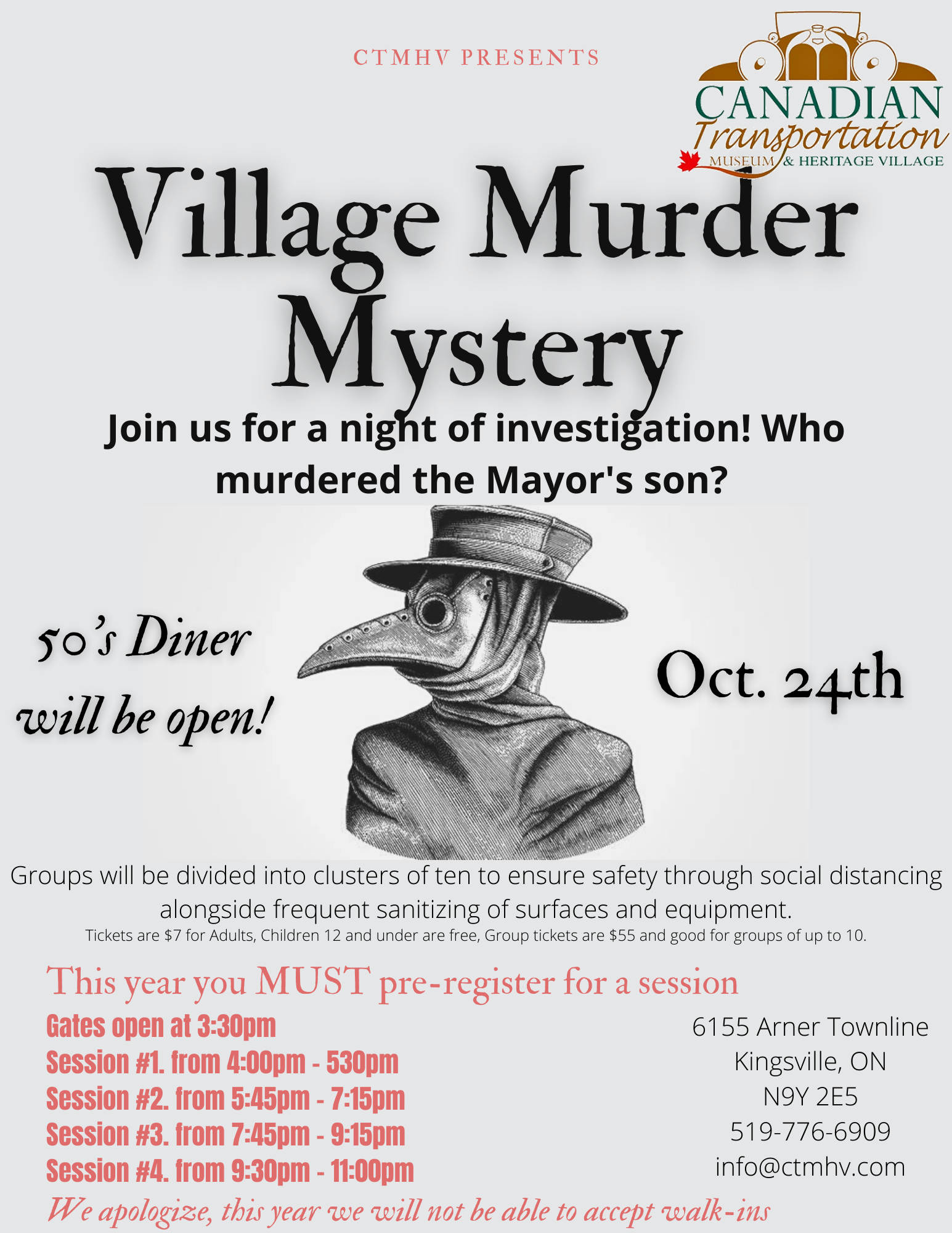 ***MUST Pre-Register***
Due to the ongoing COVID restrictions we are not able to accept walk-ins for this event. All tickets must be purchased in advance. Masks must be worn in the village at all times, and social distancing regulations will be in place.
Each session is limited to 100 people and will take approximately 1.5 hours. Tickets for sessions are non-transferable so please ensure you arrive for the session you registered in. Groups will be split up into cohorts of ten to maintain social distancing and to ensure everyone is able to participate. We will have staff on hand to ensure the frequent sanitization of each building . This is a great activity for you to get out with your social bubble! If you wish you remain as a group all tickets must be on one order.
The 50s Diner will be open until 9pm so feel free to come early and grab a bite to eat!
Come out and visit Heritage Village for our annual murder mystery night! The Mayor's son has been murdered in the midst of the 1918 Spanish Flu epidemic, it's up to you to discover the culprit!
Tickets are $7 for Adults & Children 12 & under get in free. You must register all Children in advance as well. Group tickets are $55 and are good for groups of up to 10 people. Buying a group ticket ensure you will remain with your social bubble.
This event will occur rain or shine and tickets are non-refundable. In the event of a cancellation due to increased COVID regulations, ticket price can be transferred to a Museum Gift card.
Session 1: 4:00pm
Session 2: 5:45pm
Session 3 7:45pm
Session 4: 9:30pm