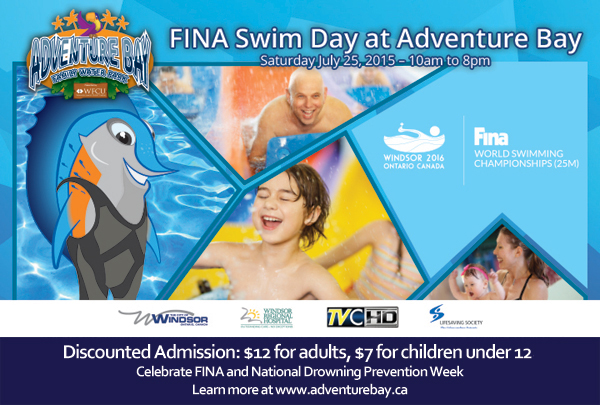 National Drowning Prevention Week takes place July 19-25 this year, and thanks to a sponsorship from FINA, Adventure Bay Family Water Park Presented by WFCU will host a special day of activities, along with discounted admission on July 25 from 10am to 8pm. Visitors will be able to enjoy admission of $12 for adults and $7 for children under 12, with $2 from each admission going to support the Lifesaving Society – Ontario Branch.
In addition to this special discount, families can also take advantage of a number of free activities and displays, both in the water park and the adjacent Windsor International Aquatic and Training Centre (WIATC) Presented by WFCU. A series of mini clinics will be offered throughout the day on topics from lifejacket fitting to CPR, in addition to an injury prevention info station that Windsor Regional Hospital will make available in the lobby. In anticipation of the upcoming FINA Windsor 2016 World Swimming Championships 25m, information on the event will be available, along with a volunteer recruitment station and the event mascot, Splasher will make a special appearance in the morning to mingle and take photos with guests. Fans can also enter a ballot draw for a chance to win four passes to the FINA opening ceremonies on December 6.
This event provides a unique opportunity for guests to learn about drowning prevention while also enjoying both the exciting rides and slides in Adventure Bay and the world-class pool facility in the WIATC.
To learn more about Adventure Bay, visit www.adventurebay.ca or call 519-972-AQUA(2782). Learn more about Drowning Prevention Week at the Lifesaving Society's website, www.lifesaving.org
Location
Adventure Bay Family Water Park Presented by WFCU
401 Pitt Street West
Windsor, Ontario