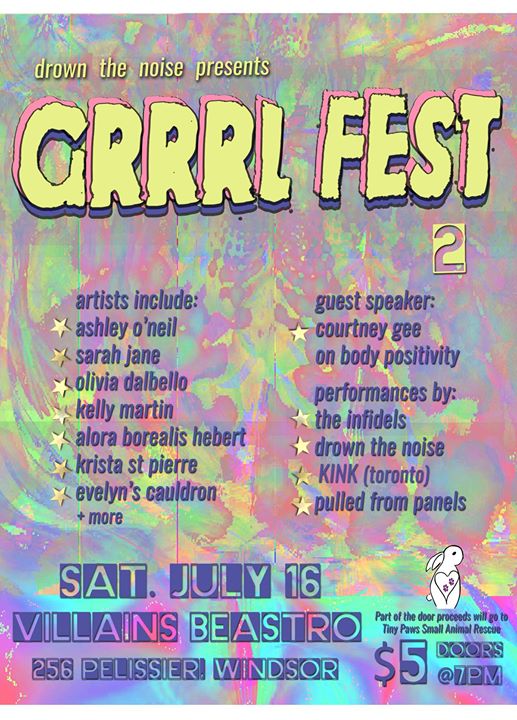 We are super excited to be hosting the 2nd annual Grrrl Fest event this year!
Just like last year there will be a door charge of 5$ and of course! The first hour will be free.
Guest speaker:
Courtney Gee on being body positive
Performances by:
The Infidels
Drown The Noise
KINK (Toronto)
Pulled From Panels (Leamington)
Vendors:
Downstairs:
Ashley O'Neil: I'm a 22 year old tattoo artist living in Windsor. I currently work at Vibe Studios on Pelissier, where I've been for 3 years. I have a total of around 4 years experience. But tattooing is not the only art I like to practice. Some of my other hobbies include: – drawing/painting/murals/portraits -beadwork/jewelry making -sewing -woodwork/sculpting -guitar/vocals (for local band Thick As Thieves) And whatever else has caught my attention that day.
https://www.facebook.com/ashley.oneil.507
Alora Borealis Hebert: Alora Hebert Art
Krista St Pierre's Art: Melted wax crayons applied to unprimed canvas allow for unpredictability. Colour decisions are crucial to developing unique palettes, which range from the monochromatic to the artificial brilliance of crayons.
Tiny Paws Small Animal Rescue: Tiny Paws is a volunteer run rescue which provides loving forever homes for rabbits and guinea pigs located in Windsor, Ontario.
Kelly Martin: Maiden Warrior Chainmaille
Ev Bringus: The Sorry Deer Soap Company, We offer handmade artisanal soaps and a plethora of body products, using our own recipes, quality ingredients, and we source our materials locally whenever possible. All products are detergent free, with vegan options, are tested on humans, and we take custom orders.
Kat Miller: Phoenix Phrog & Something Clever
What is 'Something Clever'? That's a good question. I'm not altogether sure myself. All I know, is that I made it (with a lot of help), and it's awesome. Mostly it's clothes; occasionally bags and purses and other odds and ends. I do a lot of paintings. I prefer to stay away from realism. That's what photographs are for. Everything is handmade, So for the most part everything is unique. The shirts I print, however, are bought. It's more cost effective for everyone that way. Which, I think most of us can appreciate given the financial status of… well, the world right now.
Evelyn's Cauldron: A unique earthbased herbal shoppe located in Kingsville, Ontario Canada.
Open by Appointment on the weekends!
Jamie Harway: Scentsational Skin, all natural, homemade sugar body scrubs and body butters. Coconut oil is the main ingredient in each of the scrubs, and shea butter is the main ingredient in the butter. Each of the scrubs slough off dead skin as well as moisturize. Great for dry skin and eczema. Each scent has its own personal benefit such as alertness, relaxation, helps for trouble sleeping, and keeping wrinkles away.
Shaylyn Peragine: Shaylyn Peragine Yoga Instructor I am certified Hatha Yoga Instructor from Windsor Ontario. I offer private sessions from your home as well as group classes.
Sarah Martin: Kiss my country crafts
Sarah Jane:
Upstairs:
Oli Dalbello
Erin Elizadeath Rhea : https://www.etsy.com/ca/shop/blackwaterpark0?ref=hdr_shop_menu
Andrea Marie: Art by Sugar
Daisy Devine: To explain why i make the craft i have chosen i have to explain a bit of my history in burlesque. I got into this because of overwhelming inspiration from some local talents. I had a very amazing opportunity to be apart of theatre bizzare in Detroit and was just floored by the talents. The amazing costumes, the empowering feeling i got watching these performers take over the room. I was mezmerized! I decided to give this a try and fell in love with the art form immediately. The acts and costume possiblities are endless and i started needing to make some pieces myself. Pasties happen to be one of those vital pieces i had to learn to make to accomidate my acts. I was lucky enough to Roxi D'lite teach me the way of the pastie. She taught me how to make my first set and from there my obsession with the patterns and possiblities took over. I can now make over 100 different styles of pasties and pretty well anything upon request. Burlesque is such a body positive, and impressing form of art and i urge every girl to give this small piece of costume a try. Any girl can fit them and they arent for any particular reason. I hope i find some ladies who enjoy them as much as I do. For custom pasties please email me at [email protected] I can also teach you a few tricks on spinning if you happen to buy a pair with tassels ;) Happy Twirling,
Daisy Devine
Paige Irene
Alana Travis: Alana's Food Plush Pillows
More artists will be announced!
We would also like to mention that part of the proceeds from this years Grrrl Fest will be donated to Tiny Paws Small Animal Rescue ! Check out their page, and check them out the day of Grrrl Fest, donate to some local artists and a local charity and maybe even adopt a cute and cuddley little animal!
Location
VillainsBeastro Windsor
256 Pelissier
Windsor, Ontario