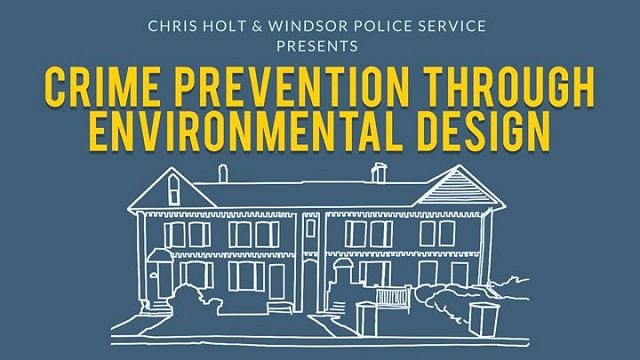 Please join Councillor Chris Holt and Barry Horrobin, Director of Planning and Physical Resources, Windsor police, for a presentation on Crime Prevention Through Environmental Design (CPTED)
(A Seminar on best practices for residents & property owners)
When: Thursday, March 8 from 6 p.m. to 8:30 p.m.
Where: Royal Canadian Legion Branch 12 – 2090 Brant St. (corner of Argyle Road and Brant Street).
What: This presentation will employ a creative application of the principles of "Crime Prevention Through Environmental Design" (CPTED), with a focus on neighbourhood (residential & small commercial) properties. The discussion will feature plenty of photos and case examples to help illustrate how CPTED can improve the safety and security of these spaces found throughout communities in Canada, the United States, and elsewhere. Collectively, an understanding of the strategies and concepts to effectively plan, modify, and maintain safer urban living spaces within the unique realm of "Environmental Criminology" will be showcased to attendees.
Crime Prevention Through Environmental Design, CPTED, is based on the premise that "the proper design and effective use of the built environment can lead to a reduction in the fear and incidence of crime and disorder, and to an improvement in quality of life." CPTED strategies are ideal for any physical environment, including residential, commercial, recreational, institutional, and industrial ones, and represent an effective way of preventing crime and promoting livable, enjoyable places.
Instructor
BARRY HORROBIN – Director of Planning and Physical Resources, Windsor Police Service
Location
Royal Canadian Legion Branch 12
2090 Brant Street
Windsor, Ontario