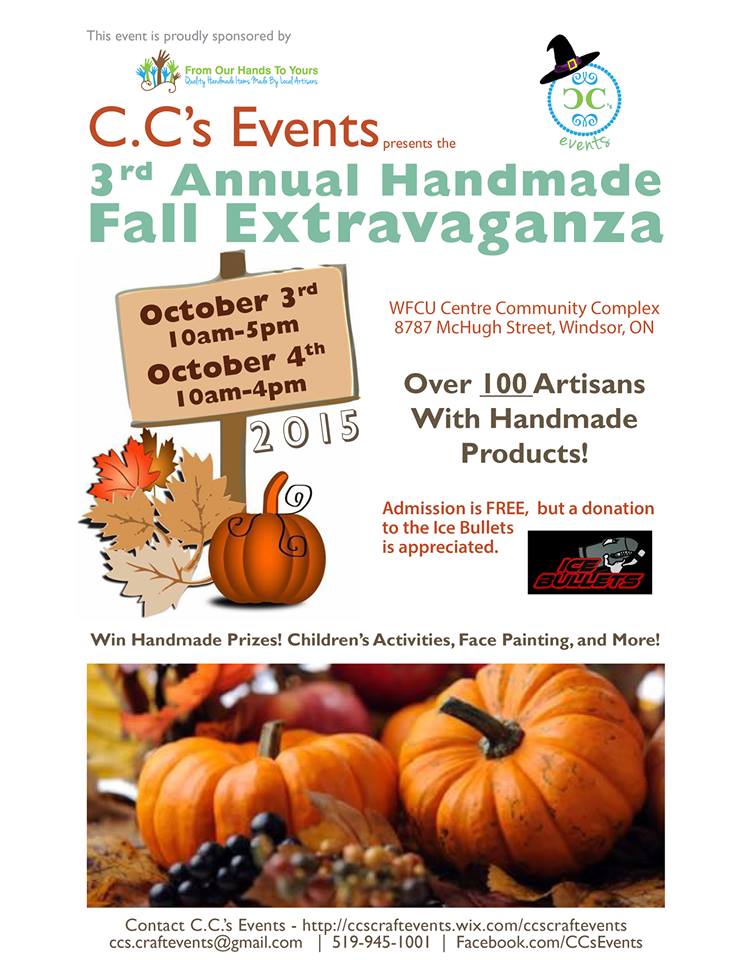 Come out to The WFCU Centre on October 3rd 10-5 & October 4th 10-4 for C.C's Events: 3rd Annual Handmade Extravaganza. Admission to the event is free however organizers encourage donations to The Windsor-Essex Ice Bullets at the door.
The Windsor-Essex Ice Bullets is an organization that represents the City of Windsor and the Counties of Essex & Kent. Their mission is to introduce sledge hockey to the children and adults of the area by providing the necessary equipment to help each sledge hockey athlete develop their maximum potential both on and off the ice. Sledge hockey is a sport designed to allow participants who have a physical disability to play the game of hockey. It is played in a sitting position and is classed as a para-sport for people with physical disabilities. In the past 3 years, C.C.'s Events has raised over $13,200 in cash donations and other necessary items for local charities including Street Help, Reach For The Skye, The Blue House, W.Y.C., The Windsor-Essex Humane Society, Welcome Centre, and The Windsor-Essex Ice Bullets.
With over 100 artists set-up at the craft show, finding fall-themed décor including gourmet food items, candles, bath & body products, children's items, wood crafts, wreaths, florals, and more, will be an easy task! Some may even wish to start their Christmas shopping before the 4th Annual Handmade Christmas Extravaganza on December 12th & 13th!
Parents can also enjoy a fun-filled family day with their kids at the children's activity centre, where there will be face-painting and balloon artistry by Nuvo Entertainment. New this year: kids can stop by the Habitat For Humanity Activity Booth for their chance to win a $50 prize in the colouring contest! Patrons can stop by the raffle table for their chance to win great handmade prizes & Windsor Spitfire tickets.
A full list of vendors is listed below:
Lorie's Glass House
Nature's Pantry
Matchups!
G & G Crafty Treasures
Celestial Casa Alpacas
Violet Dragons
Encasing Art
Group Hug Apparel
Wilkinson Candles
Log Home Body Soap
Face Painting & Balloon Artistry By Nuvo Entertainment
Colour A Picture With Habitat For Humanity
Inspirations & Fabrications
Eunice Postma
Magnets 4 Health
Everything Nice
Fancy Clips By Rose
Art By Don St.Louis
Windsor Tea Emporium
The Humble Crumb
Raffle Table
Dazzling Doors By Cristina
Gramma Sue
Bead Tween Friends
Mary's Sweet Treats
LeeLee Hats
1Above3Below
Evlin Creations
Homespun Sweets
Photography By Stephan Fillion
Aussem Boutique
Hanging By A Thread
Terra Green Gardens
Craftily Done
Victoria Rose Collection
Malorim Teas
Just A Bite Cheesecakes
Cathy Fitzpatrick
Crochet By Day
Culture Shock Jewellery
Saxellent Sweets
From The Attic
Books By Justin Duff
Tangled Threads/BitZy Buddies
John Schlarbaum, Author
Good Greek Bakery
Scentsational Skin
Made With Love
Stay's Stuff
Laurie Crozier
Ruth Clark
Crafty Chicks
Angie's Beads
Crafty Cat
Crafty Colleens
Creativi-Tee By Groovy Holly
For more info, visit www.Facebook.com/CCSEvents
Email: [email protected]
Call: Chelsey at 519-945-1001
Location
The WFCU Centre
8787 McHugh Avenue
Windsor, Ontario