Date
Saturday November 7th, 2020
Time
12:00pm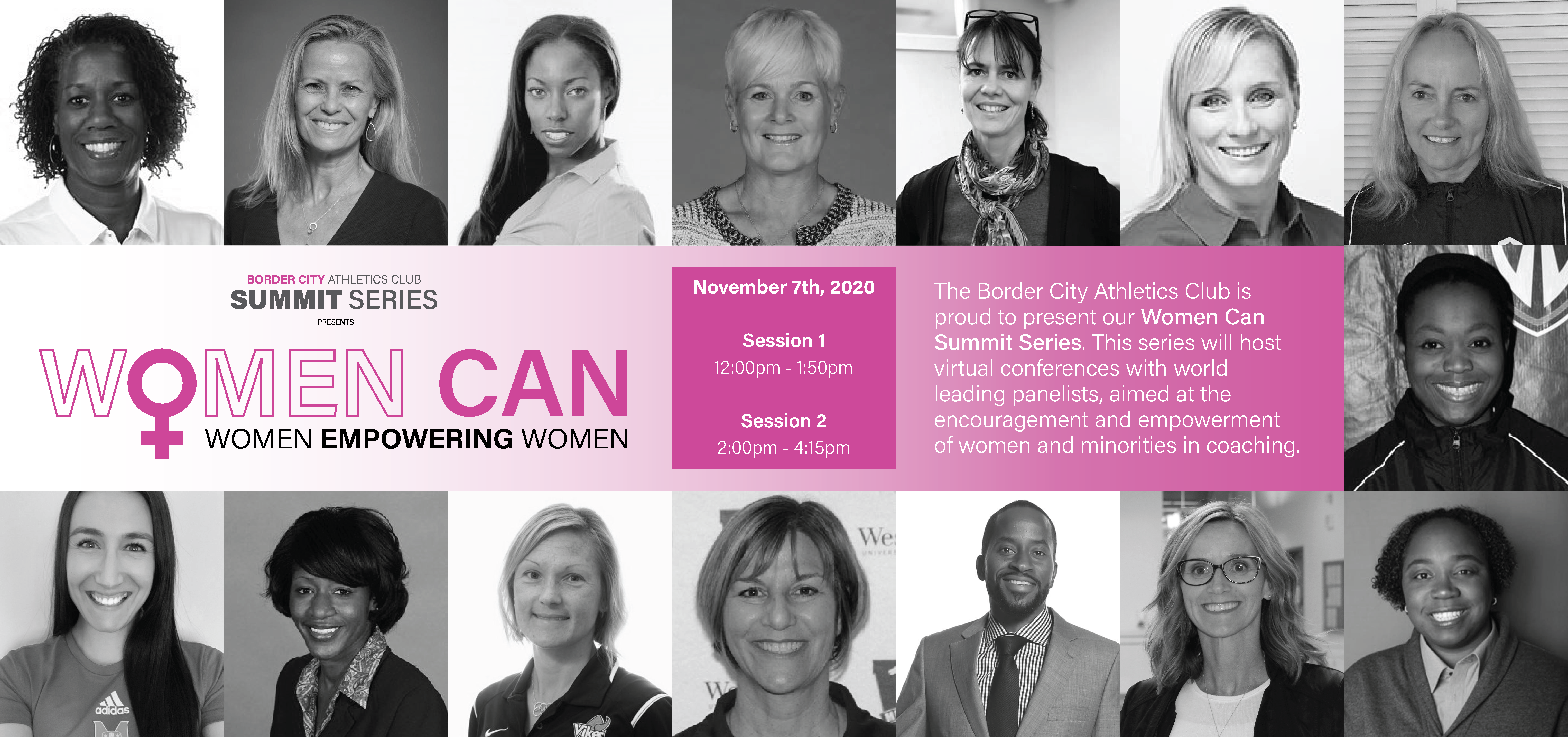 Border City Athletics Club Presents: Women Can "Women Empowering Women"
About this Event
The Border City Athletics Club is proud to present our Women Can Summit Series. Log in from the comfort of your couch, kitchen table or even your bed to hear from Olympic medalists, World Athletics Championship medalist, NBA champions, WNBA champions, World leading sports medical professionals. Our Summit Series is aimed at the empowerment and encouragement of women, minorities and coaches in athletics.
SESSION 1 12PM- 1:50PM EST
We are thrilled to have Coach, Athlete, Mother, Daughter, Wife, Canadian record holder and World Athletics Silver medalist Melissa Bishop host our first session. We will hear the personal stories of elite female coaches who are remarkable leaders:
Topics: Race, barriers to access, navigating training, mentoring, coaching tree or linage, advice to your younger coaching self, what success looks like for a female head coach
* Dana Boone – University of Central Florida head coach
* Amy Deem – University of Miami head coach
* Makiba Batten – Western Michigan Univ head coach
* Brit Townsend – Simon Fraser University head coach
Topics: How you've set up your program, a day in the life as a coach-behind the scenes look, Management of female and male gender differences, training considerations from female perspective
* Tamara Ards – Louisiana State University assist coach
* Marie-Ève Dugas – McGill University assist coach
* Vickie Croley – Western University head coach
* Hilary Stellingwerff – University of Victoria head coach
These incredible women will share their stories about how others have seen and nurtured their talents, how they have lived up to their own potential, and offer advice on how they cultivate potential in others
OUR MAIN EVENT 1:15PM-1:50PM EST
Our event Main Event, showcases the elite mothers who have done it all such as:
Moderated By: Perdita Felicien
Featuring:
Olympians & Medalists & Mothers to Mothers
* Melissa Bishop – Olympic finalist & Silver medalist 2015 World Championship 800m
* Nia Ali – 2019 World Championship Gold medalist, 2016 Olympic Silver medalist 100H
* Perdita Felicien – World Championship Gold Medalist -100H, Author and Media Personality
SESSION 2 2PM- 4:15PM EST
We are excited to have Mother, Wife, Daughter, Author, Television Personality, World Champion and Canadian Record holder Perdita Felicien :
Topics: Nutrition and Health in female elite athletes, red flags, how to access help
* Jenn Sygo – Nutrition – Raptors, Athletics Canada
* Dr. Margo Mountjoy – University of Guelph/ McMaster University/Athletics Canada- Team physician
Topics: Mental Performance & Anxiety, barriers to success, big competition , parenting the female athlete, athlete health :
* Dr. Krista Chandler – Mental Performance University of Windsor 
* Dr. Nicole Forrester – Mental Performance  Ryerson University
* Dr. Melina Thibodeau – University of Victoria / Can Sport pacific – Athletics Canada – Team physician
Topics: Developmental female athletes or issues:
* Sefu Bernard – WNBA Champions Washington Mystics – Director Of Player Development 
* Dr. Marcia Milne – Mental Performance U Windsor , Massage Therapy, Developmental Coach Track and Field
We look forward to having you tune in, and join this conversation while also enjoying:
* An opportunity to connect and network with other women & female leaders, virtually within the event platform immediately following the event. Send us your questions.