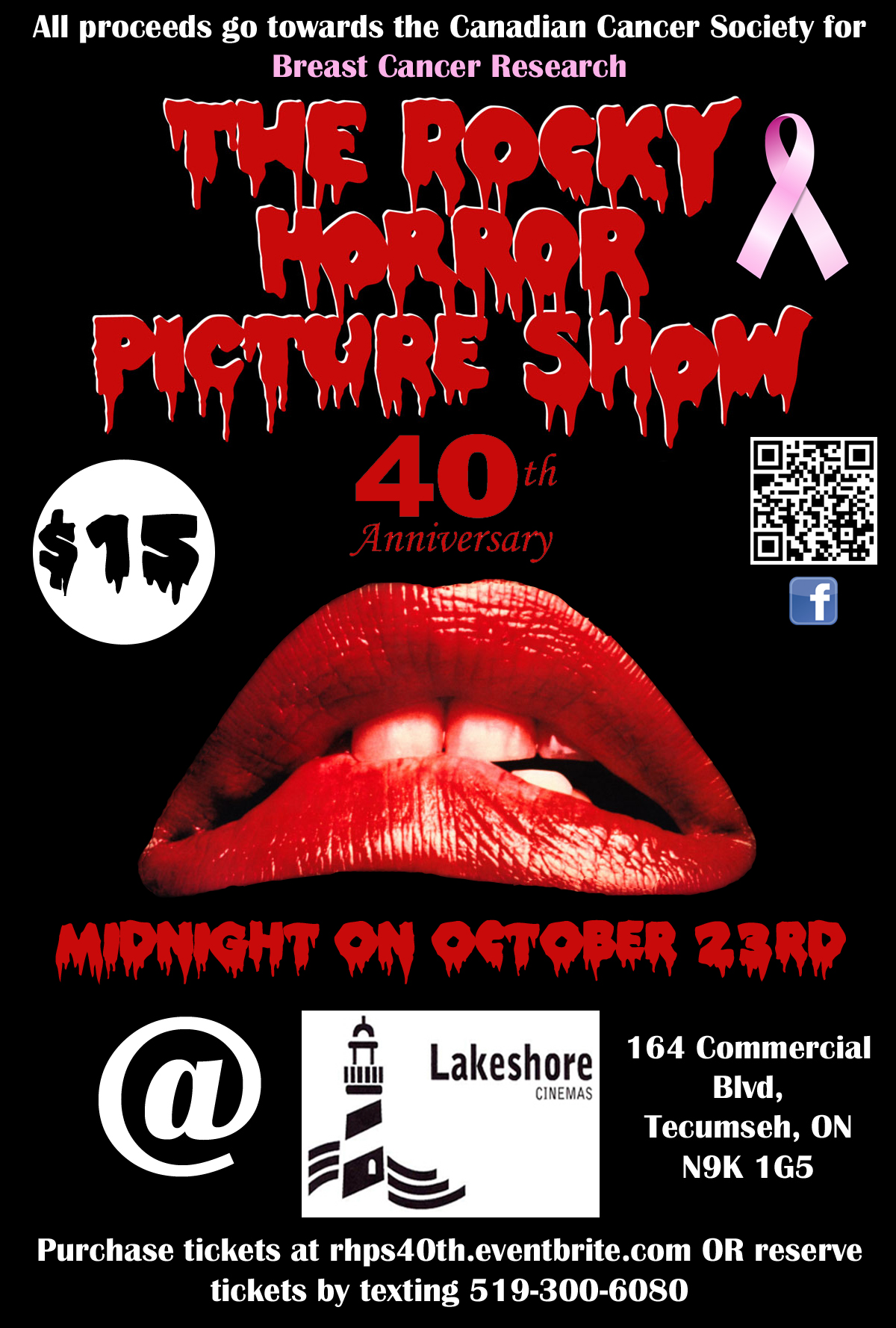 We're bring The Rocky Horror Picture Show back to Lakeshore Cinemas for the third year in a row and we're celebrating the 40th anniversary of The Rocky Horror Picture Show! Come on out to watch The Rocky Horror Picture Show on Friday October 23rd at midnight (11:59pm). Line up will start at 10pm, come early to get good seats! There will be a pre-show put on by our lovely hosts which will include a ton of interactive games and prizes. All proceeds from ticket sales and ribbon sales will go towards the Canadian Cancer Society for Breast Cancer Research. This show is rated 14A which means if you are under 14 you must have an adult with you.
Actors, costumes (no nudity please), props, and callbacks are encouraged! This year we will be selling props at the door for your convenience! Virgins (those who've never been to showing) are more then welcome! There will be a costume contest for the best Rocky Horror themed costume, the winner will win 40th Anniversary Collectors Pack.
Tickets are $15 each! Tickets can be bought online rhps40th.eventbrite.com or can be reserved by texting 519-300-6080. Tickets will also be sold at the door but may be sold out by then. This event is expected to fill up so please plan accordingly! Reserved tickets will be picked up and paid for at the theater lobby the night of, we accept cash only.
Please respect Lakeshore Cinemas and only bring the props listed below. Please also respect other movie goers: do not call other movie goers names or throw things at other people. We ask that you clean up your area before exiting the theater (it makes it much easier on the theater and they are then more likely to invite us back!).
Props List (BYOP):
***Always throw up and back towards the center of the audience, NEVER into the aisles, at the stage, screen or actors!
Newspapers: When Brad and Janet are caught in the storm, Janet covers her head with a newspaper The "Plain Dealer". At this point, you should likewise cover your head.
Flashlights/Glowsticks: During the "There's a light" verse of "Over at the Frankenstein Place, "you should light up the theater with flashlights, glowsticks or phones.
Rubber gloves: During and after the creation speech, Frank snaps his rubber gloves three times. Later, Magenta pulls these gloves off his hands. You should snap your gloves in sync each time to create a fantastic sound effect.
Noisemakers: At the end of the creation speech, the Transylvanians respond with applause and noisemakers. You should do the same.
Toilet paper: When Dr. Scott enters the lab, Brad cries out "Great Scott!" At this point, you should hurl rolls of toilet paper into the air (preferably Scotts, but please not a whole roll).
Toast: When Frank proposes a toast at dinner, members of the audience throw toast into the air (unbuttered… things could get sticky).
Party hat: At the dinner table, when Frank puts on a party hat, you should do the same.
Bell: During the song "Planet Schmanet Janet," ring the bell when Frank sings "Did you hear a bell ring?"
Cards: During the song "I'm Going Home," Frank sings "Cards for sorrow, cards for pain". At this point you should shower the theater with cards (only a few please).
Please respect the theatres requests and DO NOT bring Rice, Confetti, Water Pistols, Candles/Lighters, Hot dogs or Prunes.
Callbacks:
Don't feel that you have to memorize all of these, the most common one's are calling Janet a SLUT and and Brad an Asshole when their names are mentioned. Besides those, pick and choose a few from this list:
http://www.rockyhorrorfan.com/pdf/UCC%20Call%20Back%20Guide%20-%202011.pdf
To learn more about The Rocky Horror Picture Show check out the following links:
http://www.rockyhorror.com/
http://www.imdb.com/title/tt0073629/
http://en.wikipedia.org/wiki/The_Rocky_Horror_Picture_Show
Location
Lakeshore Cinemas
164 Commercial Blvd
Tecumseh, Ontario