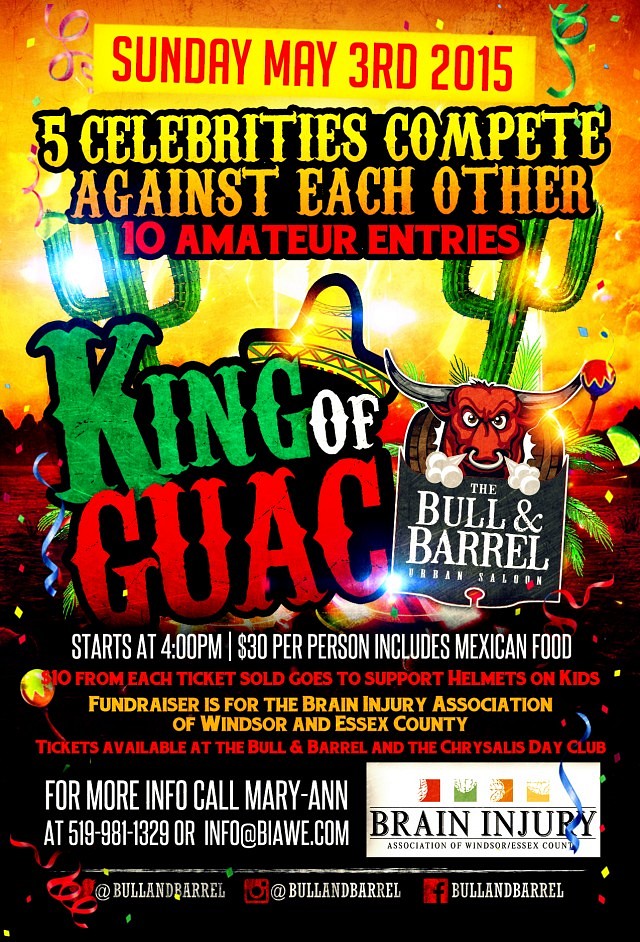 BIAWE's Second Annual KING of GUAC Chopped Canada Edition
We would like to invite you to our Second Annual "KING of GUAC" fundraiser on Sunday, May 3rd at 4:00pm at the Bull & Barrel. Come out and celebrate Cinco de Mayo with us and help raise funds for the Brain Injury Association of Windsor & Essex County's "Helmets on Kids" program. Tickets are $30 and for each ticket sold, $10 will go directly towards the purchase of helmets.
Watch as our local celebrity chefs, from Chopped Canada: Chef Ted Dimoglou, Chef John Alvarez, Chef Janet Burnup, Chef Benjamin Leblanc together with last year's winner Mike Beausoleil, come together to make their best guacamole and compete for the title of King of Guac. You, our guests, through a blind taste test, will determine the winner!
We will also have 10 amateur guacamole chefs presenting their best guacamole to the celebrity chefs to determine who will be chosen as winner. We do have a few amateur spots remaining, please contact us if you are interested in participating. Amateurs will be required to bring a dish of guacamole with them for the celebrity chefs to sample. The best amateur guacamole chef will be named Amateur King of Guac.
Only 200 tickets will be sold. Tickets are going fast and MUST be purchased before the event. If you cannot attend, please consider providing a donation to our Helmets on Kids program. Just $10 can provide a child with a helmet. The goal of our "Helmets on Kids" program is to purchase bicycle helmets for children who come from families that cannot afford bicycle helmets or that do not place importance on the purchase of a helmet for their children.
For tickets call: 519-981-1329 or email: [email protected] Tickets also on sale at Bull & Barrel.
Location
Bull & Barrel
670 Ouellette Avenue
Windsor, Ontario