Date
Saturday August 13th, 2016
Time
5:00pm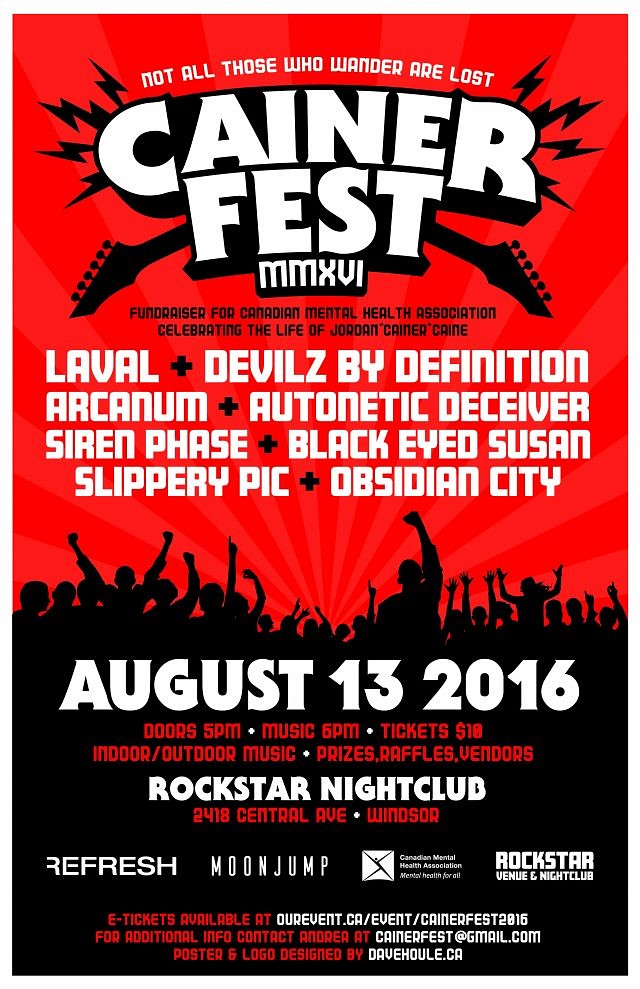 Cainerfest is the second annual festival honouring the life of Jordan 'Cainer' Caine, who completed suicide on August 13, 2014 at the age of 27. Cainerfest supports CMHA and vital mental health services in the Windsor- Essex County communities.
The 2nd annual "Cainerfest" is being held on Saturday, August 13, 2016 at ROCKSTAR Venue (2418 Central Ave.) starting at 5:00PM. Cainerfest is a fundraiser that supports programs and services for the Canadian Mental Health Association, Windsor-Essex County Branch (CMHA-WECB). The event is in the name of Jordan 'Cainer' Caine, who completed suicide on August 13, 2014 at the age of 27. Last year, Cainerfest raised $6,000 in support of the CMHA Bereavement program, $4000 more than our goal. This year's goal is to raise $10,000.
Cainerfest will feature live music, raffles, a 50/50 draw, local mental health service booths, guest speakers and more. "Cainerfest" is an event to raise funds for a great cause, connect as a community, and celebrate the life of Jordan Caine.
The "Cainerfest" slogan, "Not all those who wander are lost" stands as a reminder that we support families of the approximately 4,000 Canadians who commit suicide annually, and those who continue to experience mental health concerns. The event raises awareness for the fact that Mental Health Services are often unavailable or unattainable for Canadians who are in need. "Cainerfest" supports community members as they walk the often difficult journey towards a healthy mind and body.
About Jordan Caine: Jordan Caine was a talented musician, cook, baseball player, and artist. Jordan lived with many challenges that affected his mental health, such as manic depression and difficulty in accessing sufficient community support.
If you have any questions, or would like additional information about the event or donation packages, I can be contacted at (519) 817-1668, or email: [email protected]
Location
Rockstar Venue
2418 Central Avenue
Windsor, Ontario