45 New Cases Of COVID-19 In Windsor Essex As Of Friday
Friday November 20th, 2020
Posted at 9:55am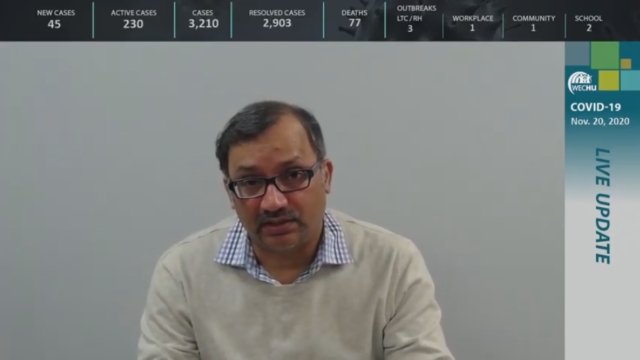 The Windsor Essex County Health Unit has announced 45 new cases of COVID-19 as of Friday, bringing the local total to 3,210. They say 2,903 people locally have recovered.
Cases increased from 3,165 on Thursday November 19th to 3,210 on Friday November 20th and 230 cases of COVID-19 are currently active in Windsor-Essex.
The Health Unit says 13 cases are close contacts of confirmed cases, 1 case is an agri-farm worker, 2 cases are local healthcare workers, 7 cases are community acquired, 4 cases are travel related, and 18 cases are still being investigated.
There have been no additional deaths due to COVID-19 as of Friday and the local death toll stands at 77.
As of Friday, the Health Unit lists 12 people as hospitalized, and 3 people in the ICU with confirmed cases of COVID-19 in Windsor Essex. Ten hospitalizations are listed at Windsor Regional Hospital.
Long-term Care / Retirement Home Outbreaks
As of Friday there are three outbreaks:
Berkshire Care Center (Windsor) has 1 staff case
Lifetimes on Riverside (Windsor) has 5 resident cases and 4 staff cases
Iller Lodge (Essex) has 17 resident cases and 1 staff case
Workplace Outbreaks
As of Friday there is one workplace outbreak at an agri-farm in Leamington.
School Outbreaks
As of Friday there are two school outbreaks:
W.J. Langlois Catholic Elementary School
Frank W. Begley Public School
Enforcement Actions
On Friday, Health Unit CEO Theresa Marentette said the Health Unit has laid five charges under the Reopening Ontario Act against area businesses. Those businesses include a convenience store, two food markets, and two restaurants/bars.