3 New Cases Of COVID-19 In Windsor Essex As Of Wednesday
Wednesday November 4th, 2020
Posted at 9:57am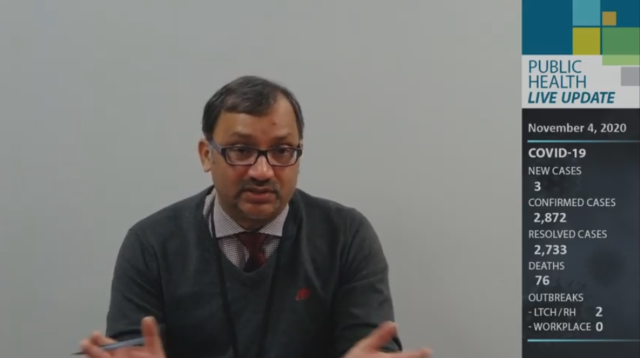 The Windsor Essex County Health Unit has announced 3 new cases of COVID-19 as of Wednesday, bringing the local total to 2,872. They say 2,733 people locally have recovered.
Cases increased from 2,869 on Tuesday November 3rd to 2,872 on Wednesday November 4th and 63 cases of COVID-19 are currently active in Windsor-Essex.
The Health Unit says 1 case is a resident of a long-term care home, 1 case is a close contact of a confirmed case, and 1 case is still under investigation.
There have been no additional deaths due to COVID-19 as of Wednesday and the local death toll stands at 76.
As of Wednesday, the Health Unit lists 1 person as hospitalized with a confirmed case of COVID-19 in Windsor Essex, and 1 person in the ICU. Two hospitalizations are listed at Windsor Regional Hospital.
Long-term Care / Retirement Home Outbreaks
As of Wednesday there are two outbreaks:
Lifetimes on Riverside (Windsor) has 3 resident cases and 4 staff cases
Iller Lodge (Essex) has 3 resident cases and 1 staff case (1 new resident case compared to yesterday)
Business Charged By Health Unit
Health Unit CEO Theresa Marentette says the Health Unit has issued a charge against a local business in Windsor.
Marentette says the business is "related to food supply" and the charge was laid for "not wearing masks after multiple written and verbal warnings."
This is the second business the Health Unit has charged, the first was a convenience store.
The Health Unit has not named the businesses.