Local Production Leaves Audiences Scared Silly
Monday October 7th, 2019
Posted at 9:00am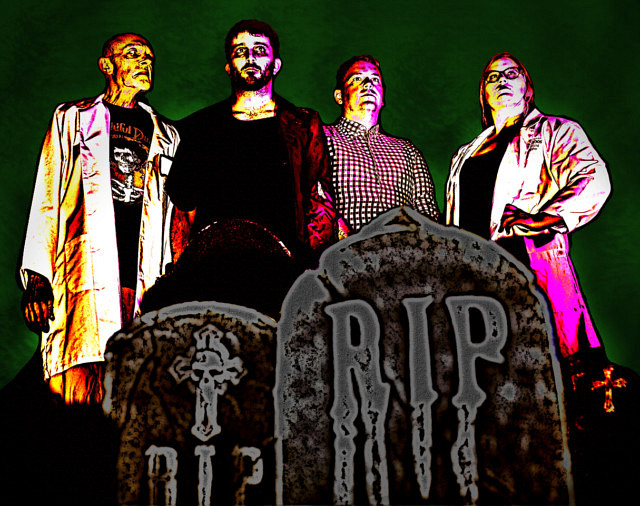 With Halloween in less than a month, a Windsor theatre group is scaring up some laughter.
Taking place at the Shadowbox Theatre (located at 103B – 1501 Howard Avenue,) Post Productions is in the middle of presenting a double bill. Grouping together the winners of their first annual Windsor Essex Playwriting contest, the company is staging both Alex Monk's Autopsy and Joey Ouellette's A Haunting in E Flat.
While it's the first time they put on plays like this, giving writers a chance to showcase their work has always been important to Post Productions.
"When we created our mission statement and principles way back when Post Productions was first conceived, providing opportunities for other artists (and collaborating with other artists) was a big part of how we wanted to work," said managing director and producer Michael K. Potter. "It's hard for new playwrights to get feedback on their work, much less get it produced. So we thought we could help a lot of people  by creating the contest and giving local writers an opportunity to see their work brought to life on stage."
It's no accident these one act plays are being presented in October either. Autopsy features David DuChene as a coroner named Gary who is at the end of his rope. He becomes shocked when a John Doe played by Joey Wright comes back to life as his autopsy is set to begin. The play also stars Rebecca S. Mickle as Gary's boss, Marie-Louise, and Drew Beaudoin as Gary's personal assistant, Michael.
When it comes to A Haunting In E Flat, the play focuses on Thomas Nett (James Stone) who works as a paranormal investigator with his niece, a medium named Charmaine (Carla Francesca.) The two are hired to help clients played by Gregory Girty and Mickle, pulling double duty for the night. These two plays are also the actress' first non-musical roles.
Both shows were selected by a panel of five judges. Those involved include the group's partners, Potter, Autopsy director Michael O'Reilly and A Haunting In E Flat director Fay Lynn. The three were also joined by Matt St. Amand, a local playwright whose work was being produced at the time and professor Michelle MacArthur from the University of Windsor's School of Dramatic Arts.
Despite having 12 entries to choose from, it wasn't an easy task however.
"I remember that I had the roster pinned next to my desktop for checking them off as I read them and to make general notes, including yes/no/maybe," said O'Reilly. "First of all it's quite a bit of reading. And reading fast isn't a good idea because if you do that, you're just getting story, plot. What you don't get is the rhythm of the dialogue, the beats of the gags and important lines. Something that reads well for story at a fast pace, you may find doesn't work at all for characters on the stage speaking out loud. Also, there are real differences in tastes for the judges. Sometimes a really good idea isn't quite there. You have to determine if it can get there with a rewrite before you saddle the playwright with that task."
To help writers and ensure they received submissions that fit, Post Productions put guidelines and ideas on their website. Even so, more attention was paid to character, story, dialogue, theme and craft.
This process was also meant to be supportive and dvelopmental. As a result, those who took part went through more than submitting a script and leaving it at that.
"In the first round of the judging process, each judge reads every entry and comes to their own assessments, prepares their own comments," said Potter. "Then we meet as a group to compare notes and discuss the merits of the entries. From that discussion, we write a letter to each submitter that collects and summarfizes our feedback constructively. Entries that make it to the second round have 3-4 weeks to revise using the feedback and resubmit.  From those resubmissions we go through the same process and make our final decision."
Work then began on the plays themselves. With development, casting and rehearsals eventually taking place, the experience reminded at least one director of the theatre group's roots.
"In some ways working on these plays reminds me of 'The Worst Thing I Ever Did,' which was the first original show we produced as a company," said Lynn. "It's that whole experience of workshopping dialogue, specifying themes and intentions, conceptualizing brand new environments on stage and finding characters that emerge not only from the script, but also from the actors who are breathing life into those characters for the first time."
Although both shows focus on character, they're the first straight-up comedies by Post Productions. Because of this, DuChene and Wright were pre-cast for Autopsy before production officially began. Having experience performing as a comedic duo, everyone felt they would be a perfect fit: This production marks their eighth together.
Auditions took place as usual for the other roles as both playwrights joining in. Despite some tough choices, everyone felt they got some quality actors and people cast for the double bill.
"There were some difficult decisions to make, but I'd say we ended up with the right casts in both plays," said Potter. "In addition to talent, skills, experience, and fit for role, now we also cast for collegiality. It's important to us that our casts and crews are able to get along well with others, treat people with respect and truly collaborate. This entire cast and crew is a dream to work with."
After the original contest, MacArthur invited both winners to her dramaturgy course. Ouelette joined soon after and worked with other students to refine his script for A Haunting In E Flat. Not having the same opportunity, Autopsy was instead workshopped, developed and revised in house with Monk's permission.
"For Autopsy, our main concern was editing dialogue to build up momentum and built in beats leading up to gags – as it is gag heavy," said O'Reilly. "The bigger concern was pace and character. It was easier for the principals because [Wright] and [DuChene] are like an old comedy team. We just had to adapt those personas for this show and make room for [Wright's] manic improvisations."
Originally the supporting cast was going to contrast with the leads as well. When making them more serious didn't work though, the play was reworked to make the entire hospital more crazy. Some sanity was kept in Beaudoin's character because he's a good straight man, but it let Mickle play to her comedic strengths.
Although A Haunting In E Flat didn't require the same kind of changes, the two productions still had challenges. Rehearsals for the double bill were split in half and while it worked out, some logistics still needed to be addressed.
"The biggest challenge, honestly, was the set," said Potter. "Not only did we need sets for two different plays, one of those plays contains three different settings.  So our set designer Matt Burgess worked with [Lynn] to figure out the best approacj. We ended up with a quasi-black-box approach using transforming set pices so the audience wouldn't be waiting around for the next scene to begin. [Burgess] and his father, Rob created some really impressive pieces that will surprise and delight people."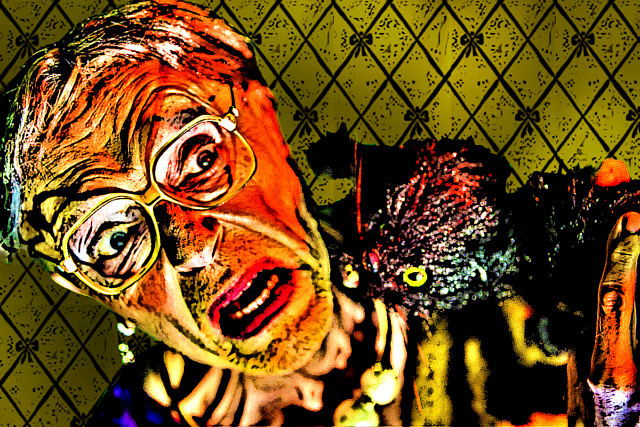 As for the actors, they allowed the story to evolve and improve from the script. Being two comedies, timing was focused on the most and characters were fleshed out through improvisation. New dimensions to the characters were also created when props were introduced into the production.
"I am in love with every one of the characters on that stage," said Lynn. "The actors have brought so much charisma and silliness, mixed with just the right amount of pathos. They've really made these characters their own."
While this double bill doesn't feature Post Productions final plays this year, Martin McDonagh's The Pillowman will end the 2019 season in November. Described by Potter as one of the best scripts they've ever read, the dark comedy is about a writer who's arrested in a totalitarian state when his stories resemble a series of murders.
Much like last year's final production of the season, the play will incorporate extra elements that the theatre company has never tackled before.
"We're going all-out with this one," said the managing editor. "Not only do we have a first-rate cast that will be announced shortly, we're also incorporating short films and animations into the show. It's a multimedia affair that has required a LOT of work and a LOT of collaboration with artists of all sorts. It runs for three weeks beginning November 22."
Although this will wind things down for 2019, 2020 is looking like another busy one. With plays already planned for the entire year, people will have lots to choose from.
"Post Productions' 2020 season kicks off with the winner of the 2019 Windsor-Essex Playwriting Contest in February: Pry it From My Cold Dead Hands by Edele Winnie," said Potter. "It's surreal, dramatic, hilarious and fun. Then in April we have a tragic romance by the great Harold Pinter, Betrayal, which is basically a love story told in reverse. We start at the end of the relationship and continue to the beginning."
From there, June will see the return of local writer Matt St. Amand with Negatunity. The play is described as a fantasy about someone working through life issues in his mind as he leaps off a bridge.
Following this, October brings John Clancy's satire of modern greed, Fatboy. 2020 will then conclude with The Beauty Queen of Lenane by Martin McDonagh: The production is about a mother and daughter whose relationship has become toxic from spending too much time together."
Autopsy and A Haunting In E Flat started at the Shadowbox Theatre on October 4 and 5. Shows will run again on October 10, 11 &12 with all performances starting at 8 p.m. Tickets are available on Post Productions' website for $25 and doors open at 7:30pm. Remaining seats will also be sold before that night's double bill if any remain.
Continuing to perform another three times, everyone involved is hoping to entertain audiences. Still, providing opportunities and sharing local talent is really what excited the group during the entire process.
"I'm excited for audiences to see brand-new plays written by local authors come to life," said Potter. "Honestly, that excitement is what drove us to create the contest and it's kept us going throughout the development process. I hope audiences come away thoroughly entertained with a strong appreciation for the level of talent there is in our fair region and for the talents of [Ouellette] and [Monk] in particular."
Speaking of the contest, a deadline of April 30, 2020 has been set for the third edition. Details on how to enter, along with requirements and criteria, can be found at Post Productions' website.