Thought Provoking Play Explores Corporate World At Shadowbox Theatre
Thursday July 19th, 2018
Posted at 5:02pm

Hello time traveller!!

This article is 143 days old.

The information listed below is likely outdated and has been preserved for archival purposes.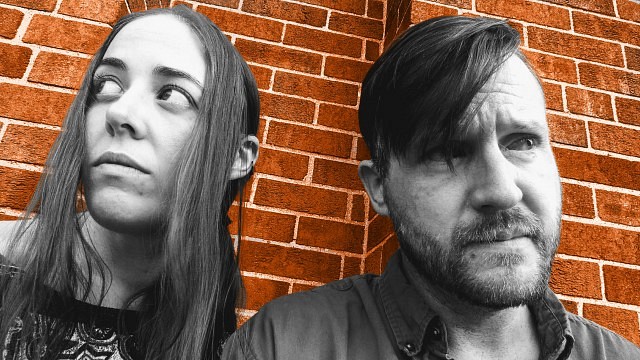 Despite the beliefs of some, a local play is set to show that there's no shelter from reality.
Opening at the Shadowbox Theatre located at 103B – 1501 Howard Avenue on Friday, July 20th, Shelter In Place will continue Post Productions' 2018 season. Written by Windsor playwright Matthew St. Amand and directed by Michael O'Riley, the play stars Fay Lynn and Michael K. Potter as corporate employees Meghan from wellness and Reinhart from logistics and risk management.
Drawing from his experience in this world, St. Amand didn't have to look far for material. Although he used reality as a backdrop, the writer admitted that exaggerations aren't always necessary for strange situations.
" It's often surprising how little real life needs to be tweaked in order to create true absurdity," said St. Amand. "I once had a colleague who worked with a guy who married a mail-order bride from some country in South America. The woman didn't speak English, they had nothing in common and while the guy was at work, she was at home online shopping him into bankruptcy. The breakdown of that guy's marriage involved his preoccupation with getting a refund from the company he had used, charges of false advertising. There was no word of love or emotions. That was that guy's reality — to him, that was how life should be lived. The outcome was a total surprise to him."
While it isn't what this play covers, the production pulls from the writer's surreal experiences in the corporate world. Trapped in a safe room due to an unknown incident, Meghan and Reinhart must learn to work together despite their differences:
After boredom sets in however, the employees start talking and the results are explosive. Although the play only revolves around two characters and St. Amand almost included three, he decided that two would be more interesting.
As a result, it became easier to focus on both sides.
"For me, it's the swing of a pendulum," said St. Amand. "The pendulum swings back and forth from Meghan to Reinhart.  And in each character there is a pendulum — when each is on top, filled with confidence, and when each is on the downswing, filled with doubt, saying things they regret, making revelations they would prefer to keep secret. This process is much more streamlined with only two characters."
When using his real life experiences for inspiration, the writer tried being fair. Believing that people sometimes make bad decisions due to bad information, he also made sure his work wasn't tainted by having axes to grind.
Putting the characters first, the rest was fleshed out by other experiences St. Amand patched together.
"Writing from my own experience wasn't as simple as transcribing what I had lived," he said. "To make the story real and entertaining, I pieced together aspects of my story and merged them with the many absurd stories I'd heard from friends and colleagues over the years. Shelter In Place is meant as a composite of the corporate life.
Having started rehearsals in November, some changes were made to the production since first being written. Seeing how Lynn and Potter approached the material, St. Amand made his adjustments accordingly. From mannerisms to different ways they delivered lines, both actors surprised him with how quickly they brought the characters to life.
Besides the play itself, attendees will also see three bonus monologues. Not an original part of the story, they are meant to get the audience into the proper headspace before the main attraction.
It was an idea inspired by the actors and director as well.
"I wrote the monologues after getting to know [Lynn,] [Potter] and [O'Riley] as actors and director," said St. Amand. "Each is tailored to what I perceived as their strengths. [Lynn's] monologue is meditative and minimalist because she has a genius for making something out of almost nothing. Her monologue is more like a Pink Floyd song. [Potter] is an excellent storyteller and a master of using different voices. [O'Reilly] is a very singular performance artist and his monologue is part plea, part stand-up comedy, where he simultaneously conveys confidence and desperation."
With the world being so confrontational, St. Amand hopes the play itself goes beyond knee-jerk reactions. Being trapped together after making several revelations, the characters must pry each other to reveal the thought process behind their views.
Exploring this is what makes the play interesting to the writer.
"As Meghan from the Wellness Department says, 'everyone has a story,'" he said. "In our world of memes, tweets and attention deficit disorder, people are too quick to believe they have a complete "read" on others based on almost no information. We make assumptions, we jump to conclusions based on how people dress, where they work, how they speak. As a writer, I enjoy working with audience expectations — setting up the audience to believe one thing and then coming at them from a different direction."
Shelter In Place will be performed at the Shadowbox Theatre on Friday and Saturday at 8pm.   The show will also run on July 26th, 27th, 28th and August 2nd, 3rd and 4th at the same time.  Doors open at 7:30 and tickets can be purchased for $20 online or in person.
Beyond entertaining crowds, it should also give them something to think about.
"Come see yourself on the stage," said St. Amand. "More than that, the play is very entertaining. [Lynn] and [Potter] have found a thousand nuances and moments where I never realized humor lay. I cannot abide preachy stories. I have no over-arching message to convey besides the simple fact that people are always more complex than they first appear."