SIU Says No Charges After Motorcycles Fled From Windsor Police And Collided
Tuesday August 23rd, 2016
Posted at 3:11pm

Hello time traveller!!

This article is 843 days old.

The information listed below is likely outdated and has been preserved for archival purposes.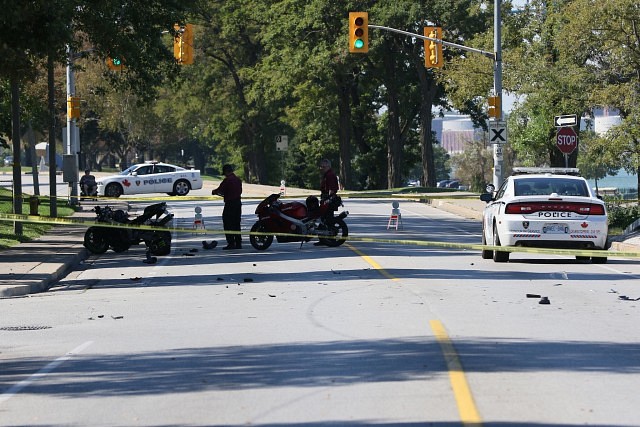 Ontario's Special Investigations Unit has determined that no further action is necessary in a case where three motorcycles sped away from a Windsor Police cruiser and two later collided, seriously injuring one rider.
The incident happened back on September 23rd, 2015 when Windsor Police officers attempted to stop a group of motorcyclists in the area of Riverside Drive and Ouellette Avenue.
As the vehicles turned left to travel west on Riverside Drive, police turned on the cruiser's emergency lights in an effort to have the motorcyclists pull over.
At that point, two of the motorcycles sped away from the officers at speeds well in excess of 100 km/h. In the area of Janette Avenue, the officers activated their siren and the third motorcycle sped away, and the officers lost sight of all three motorcycles.
A short time later, two of the motorcycles were involved in a collision at Riverside Drive and Campbell Avenue.
One of the motorcyclists, a man, suffered a broken left ankle and was taken to hospital. The other male motorcyclist did not suffer any serious injuries.
The SIU says that the injured person declined to be interviewed by them as did the second motorcyclist involved in the collision. The third motorcyclist was never identified.
The Unit's investigation also included collision reconstruction and analysis, a review of video recordings captured by cameras situated at various points along the route, and analysis of GPS data relating to the subject officer's cruiser at the times in question.
In his findings SIU Acting Director Joseph Martino said, "On the record gathered in this investigation, I find there was very little if anything the officers did wrong. Given the speeds of the motorcycles and the manner in which they were being operated, the officers were well within their rights when they first began to follow and then attempted to stop the motorcyclists for traffic infractions."
"When it became clear that the motorcycles were not about to stop, there is no indication that the officers picked up their own speed in an effort to keep pace," he said.
"On the contrary, appreciating the futility and public safety implications of attempting to chase down the motorcycles, the officers very deliberately maintained a safe speed (never exceeding 90 km/h) and simply followed on Riverside Drive until they came upon the downed bikes."
"In none of this can it be said that the officers endangered public safety either in the manner of their own operation of the cruiser or by unduly pushing the motorcyclists. In fact, the officers were a significant distance behind at the time of the collision. Worth noting as well were the favourable environmental conditions at the time: the roads were dry, the weather was clear and traffic was light."