3 People Arrested For Drunk Driving In Essex County; OPP Festive RIDE Program Kicks Off
Tuesday November 24th, 2015
Posted at 5:17pm

Hello time traveller!!

This article is 966 days old.

The information listed below is likely outdated and has been preserved for archival purposes.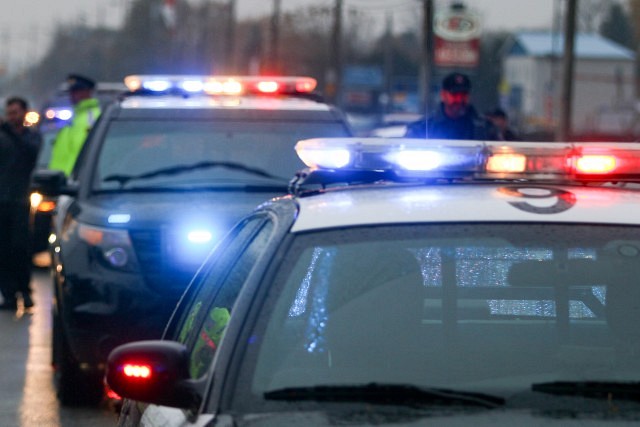 The Ontario Provincial Police in Essex County arrested four people over this past weekend on impaired driving charges, just days before launching their annual Festive RIDE program.
OPP were called to a crash on Walker Road just south of Highway 3 on Friday, November 20th. Officers learned that a grey GMC had struck another vehicle and was allegedly attempting to leave the scene. Officers spoke to the driver of the GMC who they say was exhibiting signs of impairment.
Kerri Bernardes, 40, was arrested at the scene and was charged with exceeding 80mg blood alcohol content.
Also on Friday, police received information from a motorist of a possible impaired driver travelling through the Town of Essex on Highway 3 heading towards Tecumseh.
The suspect vehicle, a white pickup truck, had swerved into the 911 caller's lane and police say he nearly hit the caller head-on and then continued to drive erratically until officers found the vehicle at a gas station on Highway 3.
The officers spoke to the driver of the truck who allegedly exhibited signs of impairment.
Jamie Shepley, 49, was charged with impaired operation of a motor vehicle and exceeding 80mg blood alcohol content.
Police were called Friday evening regarding a possible impaired driver on Tecumseh Road near Banwell.
Officers received information from a motorist regarding a red Pontiac that was swerving into oncoming traffic, travelling unusually slow and weaving in and out of traffic.
Police were able to locate the female driving the vehicle in the parking lot at a restaurant on Tecumseh Road.
The woman was arrested at the scene.
Cathy Soltes, 54, was charged with refusing to provide a breath sample and impaired operation of a motor vehicle.
Police also launched their annual Festive RIDE campaign on Monday. They say the approaching holiday season brings an increase in the number of alcohol impaired drivers on Ontario roadways.
Police say from January to October, across Ontario, the number of alcohol-related driving occurrences are up 3 percent over the same period last year. As of November 15th, of the 258 persons killed during that time period, police say 35 fatalities were attributed to alcohol consumption.
"So far this year the OPP have laid over 6800 alcohol and drug impaired driving charges," says OPP deputy commissioner Brad Blair. "This is an unbelievable statistic. There are many ways to get home after a party. Don't drink or do drugs and drive, it's just not worth it."
Last year the OPP charged 593 people across Ontario with impaired-related charges during the Festive RIDE initiative. There were also 485 people who had their licenses suspended following a warning.
Police are also asking the public to call the authorities if you see someone who gets behind the wheel after they have been drinking.