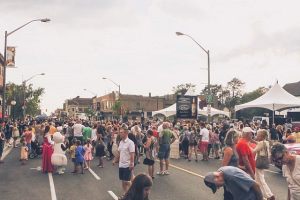 Walk, stroll or hustle down Wyandotte Street from Gladstone to Devonshire and Argyle Road.
July 21st, 2017 to July 22nd, 2017
The businesses of the Walkerville BIA will be hosting their annual Walkerville Art Walk.
Over 50 Local makers will be set up in booths displaying and selling their hand crafted goods in three locations on Friday 5-10 and Saturday 11-6 at Wyandotte Street between Devonshire Road and Kildare, Walter Kelly Funeral Home Parking lot, and Willested Resturant parking lot.
Vendors include:
Bows & Bro, Aloraflora handcrafted jewelry, BENT Art & Accessories, Andshelaughs, EVB Jewlery, Lorie's Glass House, Puce Pottery Group, Joan Watton Photography, For the Love of it - Home Decor, Art By Nora Franko, Farm Fresh Canning, Elle Bee Accessories - kids, House of Lamb Art, Charlotte's Thimble, Simple Path Products, Level Custom Designs - Wood Decor, Dolce Vita da Angie - Choc goodies, The Good Greek Bakery, Border City Custom Prints, Robert Bishop Art Wonders, Handmadeby Deb, Puf Cotton Candy, Hook and Twine Co., Patricia's Pendents, Bonzai Gifts by Pet Nanny, Bennotto Co - Wood Decor, I LUV Coffee BRAND, Cedar Valley Selections - Food, Miss Kelly - Sewing items, River Rock Pottery, Coconut Goodness Body Care, Buscuit Cards, Pop Magnetix, Mrs Ds Canned Goods, Little Foot Foods - Perogies, Coaster Creations, Finity, Twig and Bloom Soap Co., That's Sew Sarah, Pawsitively a Dog Thing, Witch and Whimsy, Top Shelf Designs, Bohemian Gangster, Scripted Somethings, Jack & Jilly Designs , Serenity Song Designs, DeCosta, Diane Leplante Jewlery, SeaSide Jewels, Arooma Candle Co., Riverside Pie Cafe, By Spotvin.....and a few more being added!!
Many of our restaurants will be extending their patios out into the street providing opportunity to relax and have a beverage or try their delicious fare.
This year we are proud to partner with Art Attack Windsor to host their Motor-Makeover Movement. Local artists have painted murals and designs on otherwise abandoned and retired automobiles. These cars have been repurposed, recycled and reused to become a beautiful art installation and we're excited to be the 1st area in the City to display!
Exodus Escape Room's mobile game is an opportunity to see what escape rooms are all about. Or, for experienced players, you will find this 10 minute room challenging as you race to try and save Windsor. Search for clues, solve the puzzles and find what you need to complete the task.
Check out the Paris Themed section of Chilver just south of Wyandotte St. E. with live jazz and special treats!
Blackburn Radio will be hosting an Ice Cream Bar on their lot - corner of Wyandotte Street East and Argyle! Yum!
Kildare at Wyandotte, Windsor