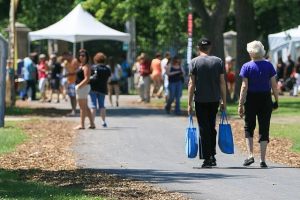 Art in the Park is one of Ontario's largest outdoor arts and crafts show.
June 3rd, 2017 to June 4th, 2017
Exhibitor Hours
Saturday, June 4th: 10am to 7pm
Sunday, June 5th: 10am to 5pm
Art in the Park Shuttle Schedules for Saturday and Sunday
Shuttle will run from the Windsor Regional Hospital Shuttle Parking Lot located at 1591 Kildare Avenue (behind The SWT Group - North of Tecumseh) and Hiram Walker Lot located at 2072 Riverside Drive East.
Saturday shuttles run from 9:40am until 7:30pm
Sunday shuttles run from 9:40am until 5:30pm
Bike Valet area:
Cyclists will have an Express Entrance through the Chilver Gate.
$5 and children 12 and under free when accompanied by an adult.
Niagara and Kildare (Willistead Park), Windsor