Date
Saturday January 18th, 2014
Time
8:00pm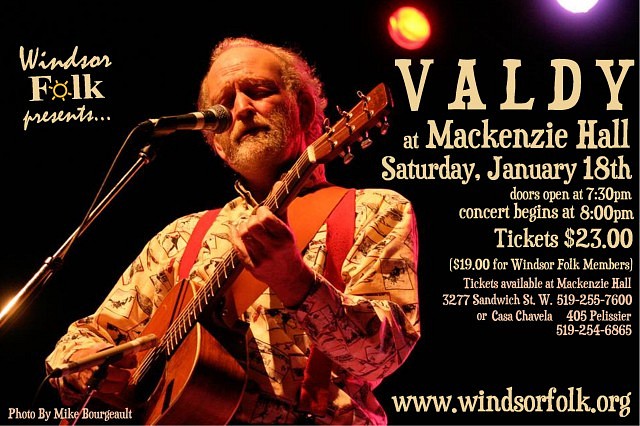 V A L D Y
..in concert..
Saturday, January 18th
at Mackenzie Hall
Doors open at 7:30pm, Begins at 8:00pm
Tickets $23.00 ($19.00 for Windsor Folk Members)
Available at Mackenzie Hall Box Office
3277 Sandwich Street West (519) 255-7600
Or at Casa Chavela, 405 Pelissier (519) 254-6865
www.valdy.com ~ www.windsorfolk.org
Who has recorded four gold albums, had his original songs recorded by both Quincy Jones and Steppenwolf, has won two Juno Awards, played a role cameo as "Halibut Stu" on an episode of "The Beachcombers", makes his current home on Salt Spring Island, was recently awarded The Order Of Canada and has been making long red socks and suspenders cool for decades…? Who other than beloved folksinger; VALDY.
Windsor Folk welcomes Valdy back to the Mackenzie Hall stage on Saturday, January 18th for an evening of songs spanning an over forty year career in music and storytelling. Truly a national treasure and one of Canada's most endearing performers, Valdy begins the solo show at 8:00pm, tickets are $23.00 or $19.00 for Windsor Folk Members.
"Valdy remains one of the country's purest and most credible storytellers."- Toronto Star
Many Canadians at home and abroad have grown up listening to his music and songs on the radio and on stage. This prolific singer, musician, performer and songwriter personifies the original stylings of the folk music idiom, reflecting – true to form – what is going on around us in our own world, in our community, our nation and abroad. Born Paul-Valdemar Horsdal in Ottawa, Ontario, Valdy debuted in the early '70s with the runaway-hit, Play Me A Rock'n'Roll Song, a humourous rendition of an amiable story-teller facing a decidedly hostile audience at British Columbia's first officially-sanctioned rock festival. This early success launched a recording career of 18 albums, 24 singles, four gold albums and more than half a million copies sold worldwide. Valdy received the 1971 RPM Gold Leaf Award for 'Folk Singer of the Year' (prior to the Junos) and the first-ever Juno for 'Folk Entertainer of the Year' in 1972.
In 2005 SOCAN awarded him with the National Achievement Award. Touted by media and fans as a national treasure, Valdy can now add The Order of Canada to his long list of distinguished achievements. Producing music for film and television, Valdy's composition A Good Song was recorded under the title Just a Man by the venerable Quincy Jones (who sang lead on the recording!). Rock'n'Roll Song has been covered by countless artists, including John Kay of Steppenwolf. A master at weaving stories and tales of life, love and battles won and lost, Valdy is a gifted wordsmith with an intuitive ability to reveal the finest and most intricate nuance of everyday life. This minstrel maintains a legion of fans across the globe, whom he knows personally from his travels, many of whom he has helped along the way.
Valdy's newest recording was released in April 2012, 'Read Between The Lines' adds to his discography of over 17 releases since his debut, "Country Man" in 1971.
"Few performers are capable of achieving the kind of energy he generates on stage." – The Globe and Mail
Having performed his music in a dozen different countries, from Denmark to Australia, Valdy continues to play some 200 shows a year, including festivals, soft–seat theatres and smaller intimate shows. In concert, Valdy remains a musical odyssey of poignant metaphors. Real life stories are delivered from the wise perspective of an old soul with earthy, practical values, dowsed in an aura of ease, wit and good old-fashioned fun. On stage, audiences are privy to a rare and intimate look into the life and soul of a Canadian legend whose genuine kindness and humility allows the audience to share a connection rarely bridged between artist and fan.
www.valdy.com
www.windsorfolk.org
Location
Mackenzie Hall
3277 Sandwich Street West
Windsor, Ontario