Date
Saturday January 14th, 2017
Time
See Description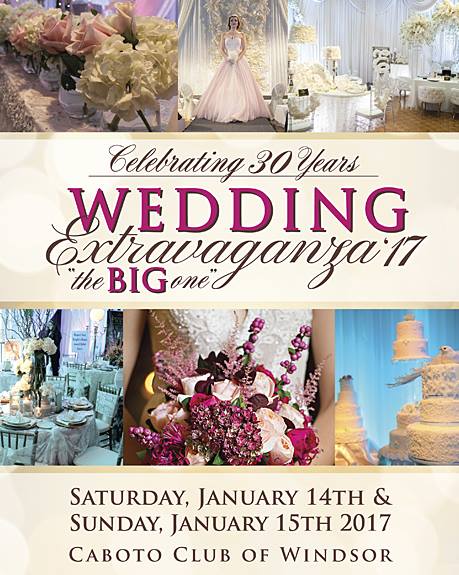 "The Big One" The Wedding Extravaganza Show held annually in January and The Fall Wedding Event held annually in September are Southwestern Ontario's best attended shows. Plan your wedding with this area's top wedding businesses, see the hottest fashion and décor trends and experience stress free planning for your upcoming wedding.
Wedding Extravaganza 2017
Date: January 14 & 15, 2017
Time: 10 am – 5 pm
Location: Caboto Club (Tecumseh at Parent, Windsor)
Pre-register to receive FREE gifts & a $2 off single show admission coupon to all our upcoming wedding shows. Brides who register for Wedding Shows Windsor Wedding Shows will receive a quarterly newsletter updating some of the newest suppliers and trends in the local wedding industry. Wedding Shows Windsor produces this area's best attended wedding shows. We can't wait to host you and your family and friends at our next show.
Fashion Shows
3 Fashion Shows daily take place in the Interactive Wedding Gallery and feature all the newest trends in wedding gowns, bridesmaid dresses, mother of the bride/groom fashions and tuxedos. Take in one or all three of them during your visit. Each one is unique and features all new fashions at each show.
11:30 am – Bridal Gowns and Tuxedo Fashions for the Groom
1:30 pm – Bridesmaids, Groomsmen and Mother of Bride/Groom Fashions
3:30 pm – Bridal Gowns and Tuxedo Fashions for the Groom
MORE PRIZES…MORE LUCKY COUPLES WILL WIN!!
Each year the Wedding Extravaganza Show has the largest prize and giveaway package of any wedding show in Southern Ontario. With over 20 prizes valued at a minimum of $500 each, Bridal Confidential Cover Draw POINT Contest, Devonshire Mall Instagram Gift Card Giveaway, Hudson's Bay special gift bags to the first 100 couples each day free new issues of WeddingBells magazine and a plethora of Booth Prizes, the Wedding Extravaganza Show gives away over $25,000.00 worth of prizes & free giveaways annually. We can't wait to roll out some exciting new elements of the show as January 2017 approaches to celebrate 30 years with you. Don't miss the chance to walk through the show and win one of the many prizes up for grabs at "The Big One"!!
Location
Giovanni Caboto Club
2175 Parent Avenue
Windsor, Ontario