Date
Tuesday April 1st, 2014
Time
8:00pm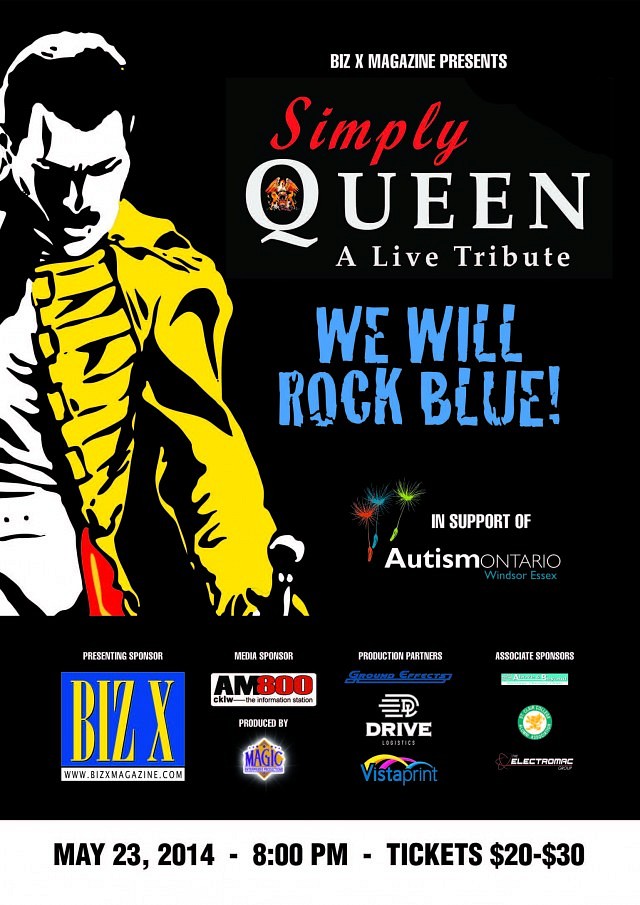 Did you know that Autism now affects 1 in 94 children in Ontario?
This pervasive Developmental Disorder affects almost every aspect of a person's life, impacting behaviour, social interaction and communication skills. And the statistics are rising at an alarming rate, affecting more and more families each year.
Tickets go on sale Jan 30th. Autism Ontario helps improve the quality of life for persons with Autism and Pervasive Developmental Disorders by working with them to ensure they live with dignity in our community.
Your help is needed to raise awareness and funds for a live tribute concert to benefit Autism Ontario Windsor Essex. The inspirational music of Queen will rock downtown Windsor's Chrysler Theatre on May 23rd, 2014.
The concert We Will Rock Blue! will feature North America's leading Queen tribute show, Simply QUEEN. It will be produced by Magic Enterprises Productions, a Windsor company with a 20+ year track record.
Location
Chrysler Theatre
201 Riverside Drive
Windsor, Ontario