Date
Friday November 7th, 2014
Time
2:00pm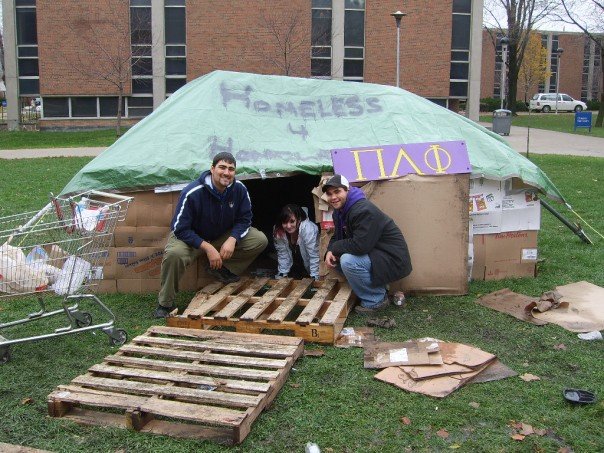 Every fall for the past seventeen years, the members of Pi Lambda Phi Fraternity have gone to the University of Windsor's campus and put themselves in the shoes of those whom they are trying to help. They build a small shelter of cardboard, skids, and tarp; an alternative many on the streets must resort to without a home to live in.
Weathering the elements to raise awareness as well as; food, clothes and money for the United Church Downtown Mission of Windsor, the brothers of Pi Lambda Phi put themselves in the shoes of those they are hoping to help.
Homeless for the Homeless has been one of Pi Lambda Phi's most important annual philanthropic events. In the last three years alone they have raised over $2,000 and over a dozen boxes of canned food and clothes; collected during their stay on campus.
"As an alumnus, I am proud to see UofW students taking positive actions to help the community. Events like Homeless for the Homeless are great examples of what students can do to help people who are less advantaged," states Mayor-elect Drew Dilkens.
Pi Lambda Phi Fraternity is a social organization founded and chartered at the University of Yale in 1895. Today, over 40 Pi Lambda Phi chapters at colleges and universities all across North America cultivate meaningful communities that promote strong academic abilities, leadership, social responsibility, and lifelong fraternal bonds.
Pi Lambda Phi will be on the University of Windsor campus, outside Leddy Library, from November the 5th until the 7h; collecting canned goods, clothing, and money, in support of the United Church Downtown Mission.
Anyone on the university campus during the event is encouraged to bring old clothes or canned food to the Homeless for the Homeless event to donate and help those in need.
Location
Lawn in front of Memorial Hall on the University of Windsor Campus
401 Sunset Avenue
Windsor, Ontario