Date
Monday March 30th, 2015
Time
6:00pm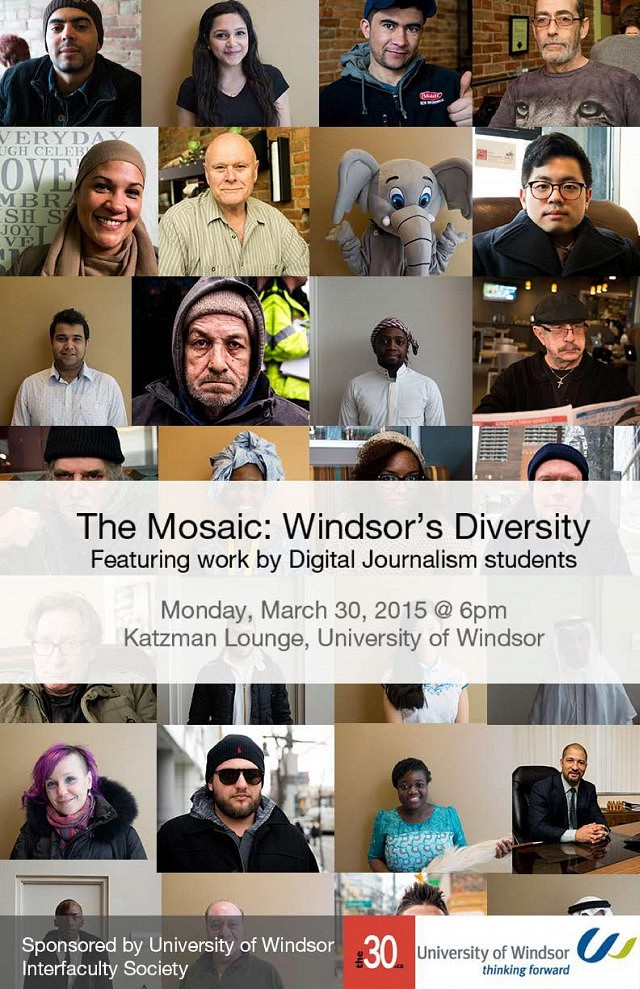 This year, our Digital Journalism students from the University of Windsor have been working three months on a documentary film about Windsor's multiculturalism.
The documentary investigates the multiculturalism in Windsor and asks questions like how have people made this city their home, if Windsor is a welcoming city, if their lives have changed since moving here, if they have sacrificed anything to come here, and more.
Windsor is the fourth most diverse city in Canada and although we see different cultures every day, do we ever truly take the time to know the stories behind these faces? Our program believes it's important to be well versed with the diversity in Windsor and listen to these unique stories.
Our event is called "The Mosaic: Windsor's Diversity" and it will be held in Katzman Lounge (located in Vanier Hall) at the University of Windsor. on March 30 at 6 P.M. Drinks and refreshments will be available. The event is open to the public and admission is free.
If you have any questions, please contact:
Sarah Lau
Promotions Manager, Digital Journalism the30.ca
cell: 519-817-1716
Location
Katzman Lounge (located in Vanier Hall)
401 Sunset Avenue
Windsor, Ontario