Date
Thursday November 26th, 2015
Time
7:00pm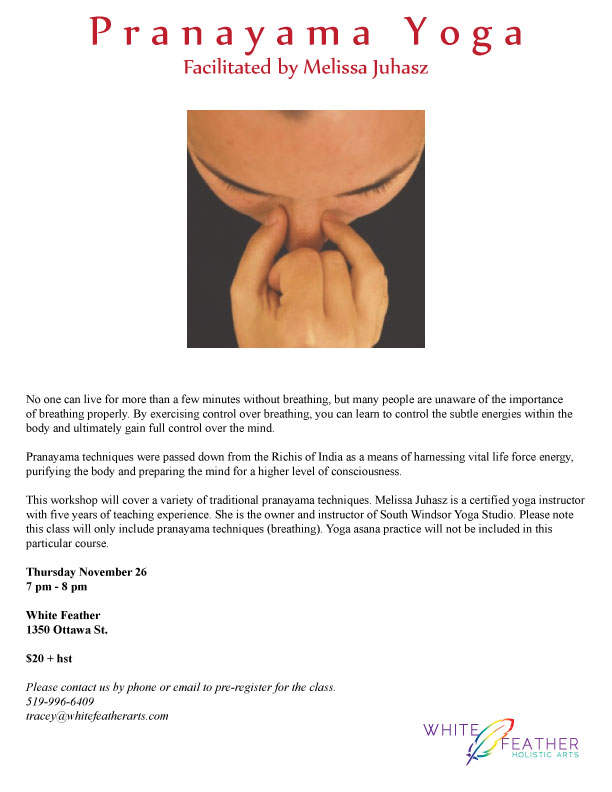 Pranayama Yoga
Facilitated by Melissa Juhasz
No one can live for more than a few minutes without breathing, but many people are unaware of the importance of breathing properly. By exercising control over breathing, you can learn to control the subtle energies within the body and ultimately gain full control over the mind.
Pranayama techniques were passed down from the Richis of India as a means of harnessing vital life force energy, purifying the body and preparing the mind for a higher level of consciousness.
This workshop will cover a variety of traditional pranayama techniques. Melissa Juhasz is a certified yoga instructor with five years of teaching experience. She is the owner and instructor of South Windsor Yoga Studio. Please note this class will only include pranayama techniques (breathing). Yoga asana practice will not be included in this particular course.
Thursday November 26
7 pm – 8 pm
White Feather
1350 Ottawa St.
$20 + hst
Please contact us by phone or email to pre-register for the class.
519-996-6409
[email protected]
Location
White Feather Holistic Arts
1350 Ottawa Street
Windsor, Ontario