Date
Tuesday January 20th, 2015
Time
6:30pm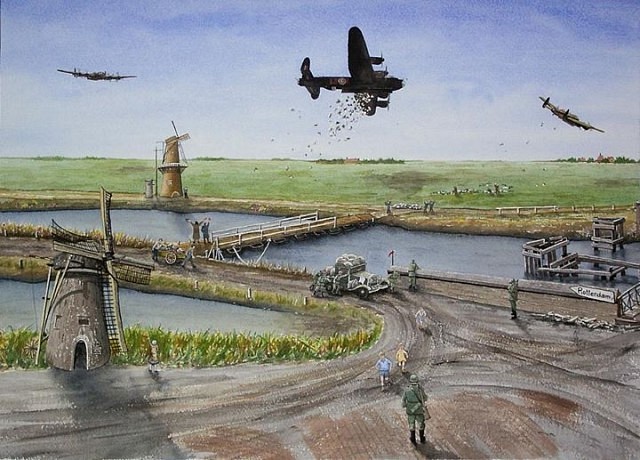 We are writing to update you on the latest exciting developments with the Essex Memorial Spitfire Committee. As members of the committee we cannot tell you how gratifying it was to stand with you and see, "Priscilla" dedicated on September 21st this year. As an update, we are still actively fundraising for the, "Honour Wall". Our plan is to dedicate this magnificent tribute in the spring of 2015. It will honour all our Essex County WW II RAF & RCAF Veterans.
One of our next fundraisers includes two members of our committee Michael Beale and Michael Kohuch. They have a fascinating WW II story to tell regarding, "Operation Manna". These were the missions of mercy performed by the RAF and the RCAF in The Netherlands in the closing days of WWII. They will share the wonderful, "Bad Penny" Essex County connection. This is a heartwarming story of an Essex County Lancaster pilot named, Bob Upcott and his crew who flew the very first test mission which became, "Operation Manna", and how a young boy named Peter said, thank you, so many years later.
The Essex Memorial Spitfire committee is sponsoring this presentation at the Essex Legion in an effort to raise funds for the wall and in support of the 10th Windsor Military Studies Conference (poster attached). The conference is open to the public and is being held at the new Windsor Armoury, 4007 Sandwich St, Windsor the weekend of Feb 6 & 7th, 2015. Funds raised will provide free admission to students attending the event.
With this in mind, we are inviting children and their parents to come and see both Michael Beale and Michael Kohuch and their, "Operation Manna" , "Bad Penny" presentation. These two gentlemen have a way of bringing this wonderful story to life.
It is our hope that all adults attending will make a donation at the door. There will also be souvenir books and airplanes available for purchase after this event, as part of our fundraising activity, along with "Priscilla" Spitfire souvenir coffee mugs and t-shirts.
Save this date: Tuesday January 20th at 6:30pm at the Royal Canadian Legion, Essex Branch 201.
If you are unable to attend, but wish to make a donation for the event, please contact Suzanne at 519-566-8125 or Monica Totten for pick up details.
Location
Royal Canadian Legion, Branch 201
103 Talbot Street North
Essex, Ontario