Date
Tuesday May 30th, 2017
Time
7:00pm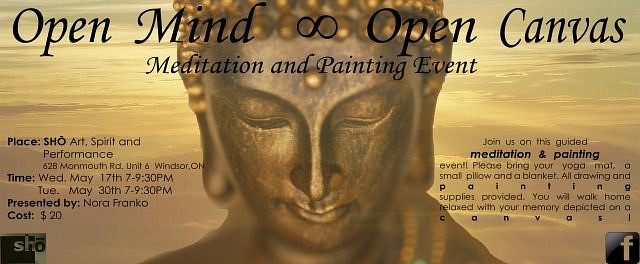 Join us on this guided Meditation & Painting event!
Please, bring your yoga mat, a small pillow and a blanket.
All painting supplies are provided!!!
You will walk home relaxed with your memory painted on a canvas!
If you are interested to come to this event please, come early!!!
Space is limited to 10-12 people. When you get here early you will give yourself some time to decompress from the stressful days. Upon arrival, after a little chat with friends you will be invited to lie down and relax. We encourage everybody to follow their preferred method of meditation such as sitting on a chair or on the floor or just lying down on your yoga mat.
We will lock the doors during the meditation.
If you cannot make it to this event, than we will be looking forward having you on the next event,
that is taking place on Tuesday, 6th of June 2017 and/or on Wednesday, 14th of June between 7-9:30 pm.
Location
SHŌ Art, Spirit and Performance
628 Monmouth Rd. Unit 6
Windsor, Ontario