Date
Saturday September 3rd, 2016
Time
1:00pm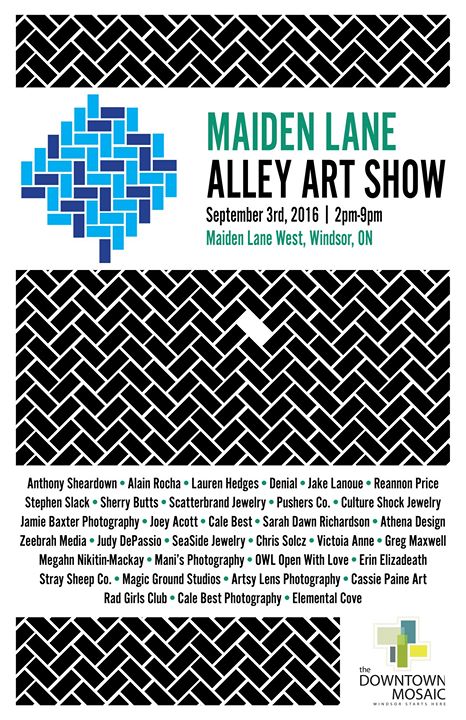 Maiden Lane, back at it again with the Alley Art Show!
Join us on Saturday, September 3rd directly after the Downtown Windsor Farmers Market for a fun evening featuring photographers, visual artists, fashion designers, and musicians!
Bring money to buy some amazing local art or just come and enjoy the environment. There's great food, drinks, benches, music, and everything else to make this the perfect end to your summer. Come hangout!
This event is part of the Downtown Windsor BIA's Afternoons in the Alley project!
ARTISTS
Anthony Sheardown
Alain Rocha
Lauren Hedges
Denial
Jake Lanoue
Reannon Price
Art in Motion Digital Imagery
Sherry Butts
Scatterbrand Jewelry
Pushers Co.
Culture Shock Jewelry
Jamie Baxter Photography
Joey Acott
Cale Best
Sarah Dawn Richardson
Athena Design
Judy DePassio
SeaSide Jewelry
Chris Solcz
Victoia Anne
Megahn Nikitin-Mackay
Greg Maxwell
Mani's Photography
OWL Open With Love
Erin Elizadeath
Magic Ground Studios
Artsy Lens Photography
Cassie Paine Art
Rad Girls Club
Cale Best Photography
Elemental Cove
Jillian Siu
Windsor Independent
A special thank you goes out to Murad and Dan at Five Ten for helping.
This event is in collaboration with Part Art Part Party Pt. 8, an art show featuring live art battles, alcohol, and music held the night before.
Location
Maiden Lane
Maiden Lane West
Windsor, Ontario