Date
Friday November 15th, 2013
Time
5:00pm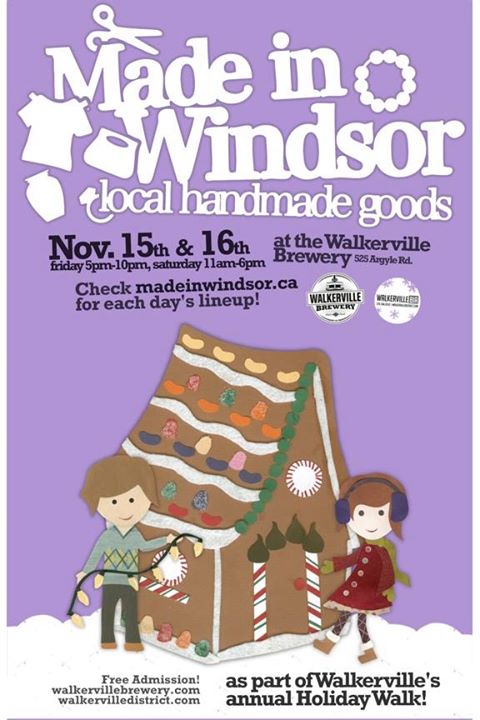 Made in Windsor is thrilled to once again be participating in the
annual Walkerville Holiday Walk. We're equally excited to be hosting
our show in the historic Walkerville Brewery. Join us Friday November
15 from 5-10pm and Saturday November 16 from 11am-6pm for a
celebration of all things local! This year's crop of local artisans
will be selling jewelry, home decor, leather goods, paper craft,
accessories, soaps, candles, woodworking, ceramics, photography,
knitted goods, fibre works, books, glassware, baby gear, ornaments and
more. Each day has an entirely different lineup of makers and we'll be
posting the complete list right here in a couple of days…so be sure
to check if you're looking for someone/something specific! Better yet,
why not come both days? The event is free and there is plenty of
parking nearby. There will be local beer on tap (though of course
little ones are welcome!), local musicians on the mic and lovely local
gifts for sale. If you've been to a Made in Windsor event before you
know to expect a fun, welcoming atmosphere and lots of beautiful
things. If you've never been, this is a great one to start with! We're
really excited about this year's show. Come check out what the MIW
buzz is all about!
Location
Walkerville Brewery
525 Argyle Road
Windsor, Ontario