Date
Wednesday August 23rd, 2017
Time
7:00pm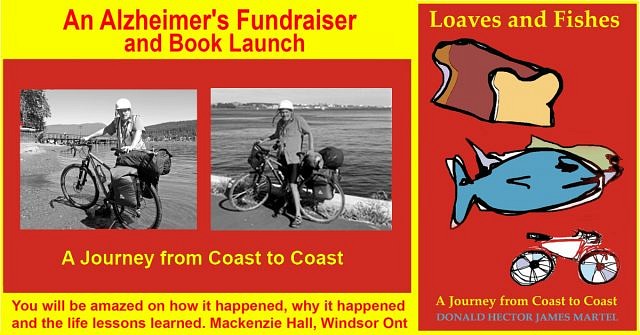 Inspired by a chance encounter with a couple he met on the shores of Lake Temagami, Don Martel, a professional photographer from Windsor, ON., accomplished what most of us would think unimaginable – cycle 8,200 kilometres across Canada – alone.
Although pedalling solo, Don soon learned after leaving Vancouver, B.C., that he was never alone. And it's those heart-warming and inspirational encounters with fellow Canadians that were the inspiration for his book, Loaves and Fishes, which coincidentally debuts in 2017, the year of Canada's 150th birthday.
Don's life also has been touched by the dreaded Alzheimer's disease. As a result, he dedicated his ride to the Alzheimer's Society of Canada. Along the way he spread awareness about the disease and encouraged people he met to donate to the society.
This is an event not to be missed. Don is not only an amazing photographer and teacher, he is also a great story teller. You'll meet the photographer/author, who will tell stories from his book and present a breath-taking audio-visual display of some of the 15,000 photographs he made along the way. Books will be available for sale at the event.
Location
MacKenzie Hall
3277 Sandwich Street West
Windsor, Ontario