Date
Tuesday December 1st, 2015
Time
7:00pm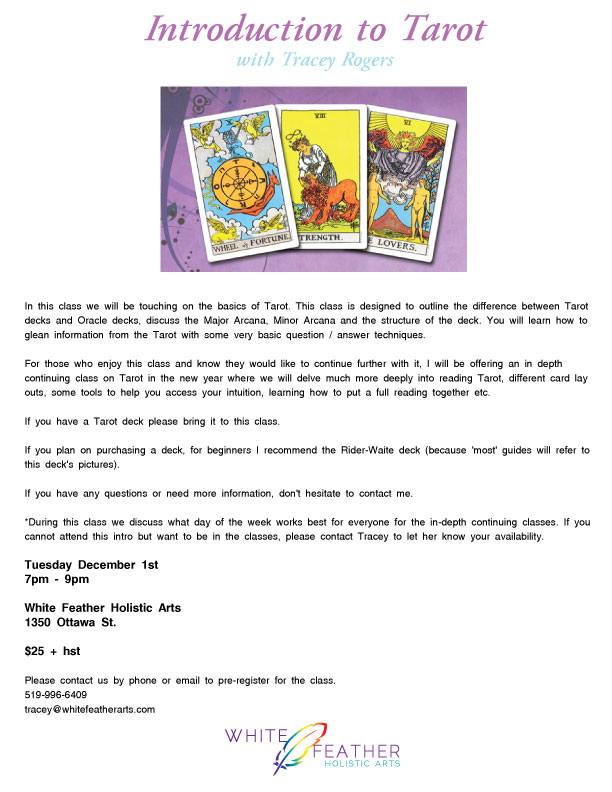 Introduction to Tarot
facilitated by Tracey Rogers
In this class we will be touching on the basics of Tarot. This class is designed to outline the difference between Tarot decks and Oracle decks, discuss the Major Arcana, Minor Arcana and the structure of the deck.
You will learn how to glean information from the Tarot with some very basic question / answer techniques.
For those who enjoy this class and know they would like to continue further with it, I will be offering an in depth continuing class on Tarot in the new year where we will delve much more deeply into reading Tarot, different card lay outs, some tools to help you access your intuition, learning how to put a full reading together etc.
If you have a Tarot deck please bring it to this class.
If you plan on purchasing a deck, for beginners I recommend the Rider-Waite deck (because 'most' guides will refer to this deck's pictures).
If you have any questions or need more information, don't hesitate to contact me.
*During this class we discuss what day of the week works best for everyone for the in-depth continuing classes. If you cannot attend this intro but want to be in the classes, please contact Tracey to let her know your availability.
Tuesday December 1st
7pm – 9pm
White Feather Holistic Arts
1350 Ottawa St.
$25 + hst
Please contact us by phone or email to pre-register for the class.
519-996-6409
[email protected]
Location
White Feather Holistic Arts
1350 Ottawa Street
Windsor, Ontario