Date
Saturday May 17th, 2014
Time
8:00pm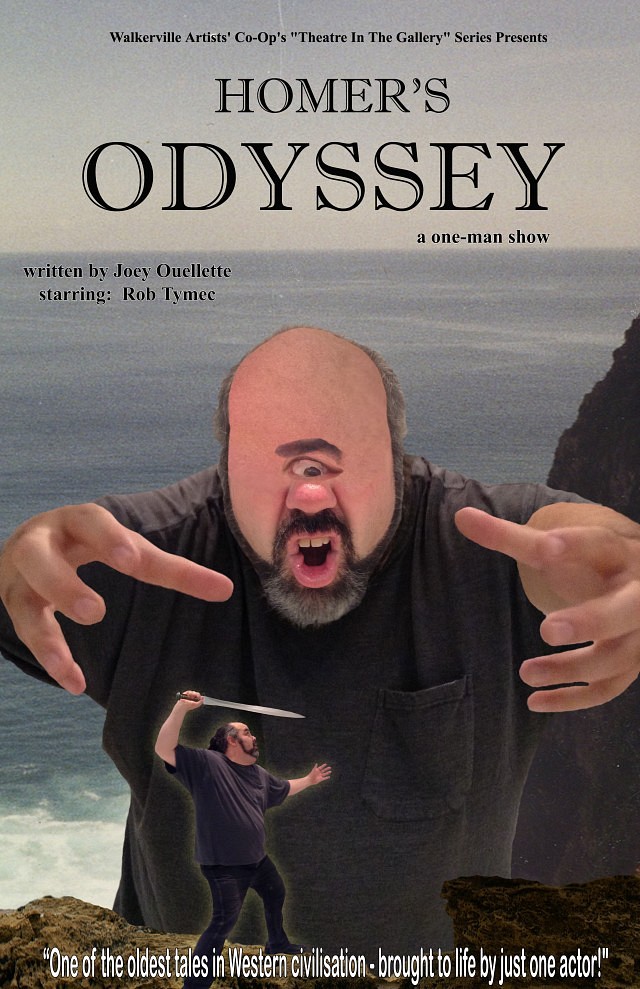 Walkerville Artists' Co-Op's "Theatre In The Gallery" Series Presents:
HOMER'S ODYSSEY
a one-man show
written by Joey Ouellette
starring: Rob Tymec
"One of the oldest tales in Western civilisation – brought to life by just one actor!"
to be performed at: Walkerville Artists' Co-Op, 1974 Wyandotte East (right beside Border City Comics)
on the dates of: Saturday May 17th, 24th and 31st
performance time: 8PM
Ticket price: $15 adults
$10 students/seniors
Ten years have passed since the epic Trojan War, and Odysseus has still not returned home. A huge gang of suitors now infest his household, attempting to gain the hand of the war hero's wife, Penelope. His son, Telemachus is trying to stop the suitors from devouring his father's fortune but all seems lost unless he can find evidence that Odysseus is still alive.
Odysseus does still live. He is held captive on an island by Calypso, a sea-nymph who is trying to get him to fall in love with her. By order of Zeus, she is required to finally release him. Odysseus builds a raft and embarks on a great journey. On his travels, he will face rugged waters stirred up by a vengeful Poseidon. He will linger on dangerous shores inhabitted by Circe, the malovelent witch. He will try to resist the hypnotic Sirens and the lure of the narcotic lotus-fruit. He will ward off an attack by Scylla, the six-headed beast. And, of course, he will face off with the gigantic Cyclops.
A Classic told in a whole new fashion. One actor, shifting between multiple characters, narrates to the audience the most epic of tales. Greek mythology comes to life in a way you won't believe!
Location
Walkerville Artists' Co-Op
1974 Wyandotte Street East
Windsor, Ontario