Date
Saturday May 27th, 2017
Time
6:00pm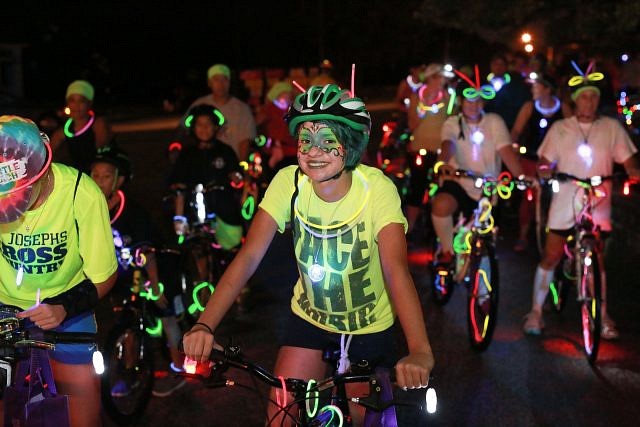 Established in 2014, The Glow Ride is a 7.5 km nighttime bike ride on the beautiful Ganatchio Trail and surrounding Riverside neighborhood that is sure to put a smile on your face and a good feeling in your soul. This year's proceeds to benefit This One's For The Girls, a local fundraising campaign in support of cancer awareness, research and treatment for women living in Windsor/Essex. Our mission is to illuminate the human spirit; bringing family and friends together through one incredible fun ride that is appropriate for any skill level. Our goal is to leave a positive impact on all who attend our event as well as our community.
Get your tutus on, neon spandex, crazy socks, multi coloured hair and anything that lights up or blinks. What are you waiting for? Get your glow on and ride!
And for all you non-riders, don't you worry, we got you covered! New this year – the virtual Glow Ride! Ride anywhere & everywhere! You can map your own course and choose where you want to ride. You can even complete this ride on the stationary bike! Tell your friends and family why you are biking and invite them to join you as a warrior for the cause by making a donation to your fundraising page.
Event Schedule
6:00 pm
Late Registration Opens & Kick-Off Party Begins
8:30 pm
Children's Ride 3km (under 10 yrs)
9:15 pm
Adult & Family Ride 7.5km
10:30 pm
Wrap Up
Visit www.GlowRide.ca for more info!
Location
Riverside Sportsmen Club
10835 Riverside Drive East
Windsor, Ontario