Date
Tuesday June 17th, 2014
Time
4:00pm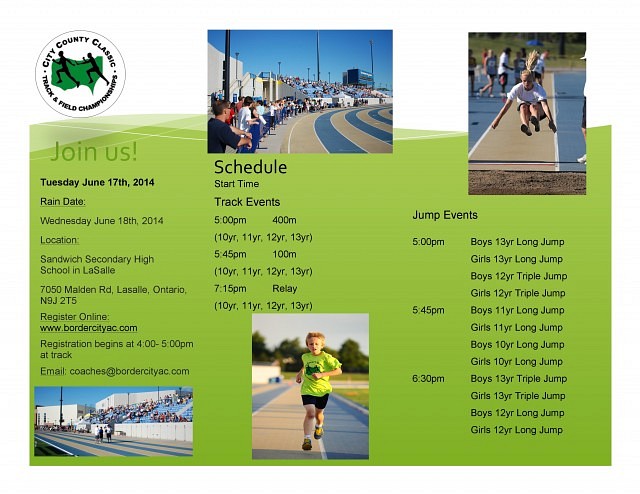 The Fourth Annual City/County Classic will take place Tuesday, June 17th, 2014at Sandwich Secondary High School Track (7050 Malden Rd, Lasalle, Ontario, N9J 2T5). The rain date is scheduled for Wednesday, June 18th.
Registration 4:00 pm – 5:00 pm
Meet 5:00 pm – 8:00 pm
This track and field meet is available to students ages 10 – 13. , you have to confirm your entry by going to www.bordercityac.com by June 11th. If you do not go to the website and enter yourself, you cannot compete in the meet. No new entries will be taken day of the meet. Your child will also be competing against students from school
boards across Windsor Essex County. Registration is $5 this year for each athlete, regardless of how many events they are
entered in. Every participant will receive a "City/County Classic" souvenir t-shirt upon registration on June 17th at the meet. Parents or Coaches must sign a waiver on line or at the registration table and they will be held responsible for their children/ athlete's during the meet. An adult has to be there with the students that are competing (it can be a
teacher, parent, guardian or another family member). Awards (gold, silver and bronze medals) will be presented to the top 3 participants of each event. Please note; no spikes will be allowed at this meet. Also, athletes, parents or coaches please don`t forget to go to www.bordercityac.com by June 11th to register.
Location
Sandwich Secondary High School
7050 Malden Road
LaSalle, Ontario