Date
Friday September 26th, 2014
Time
6:00pm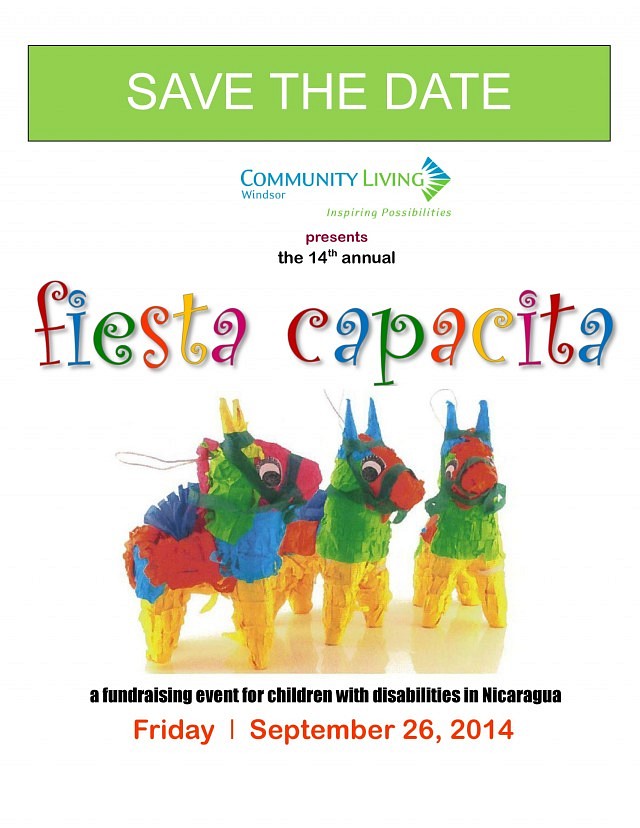 Each year, Community Living Windsor, through its Capacita project, continues to advance the cause of children with disabilities in Nicaragua, children who live in one of the poorest countries in the western hemisphere. Through our annual fundraising event, we are able to purchase life-saving medications and provide medical aid.
Thanks to the generosity of individuals and local businesses, over $230,000 has been raised as a result of our annual charity dinners over the past eleven years. All proceeds have been donated directly to vulnerable children and their families. Over 150 children continue to receive life-giving anti-convulsive medications and free medical consultations in Managua and other rural villages in Nicaragua.
Community Living Windsor will be hosting its 14th annual fundraising event on Friday, September 26th, 2014 at the Ciociaro Club in Oldcastle. This year's theme is "Fiesta Capacita", and the evening will include dinner, silent auction and much more.
For further information, contact Lisa Baxter at 519-974-8918, ext. 225, for tickets –Terry Cloutier at 519-974-8918 ext. 235.
Location
Ciociaro Club
3745 North Talbot Road
Oldcastle, Ontario