Date
Saturday March 21st, 2015
Time
11:00am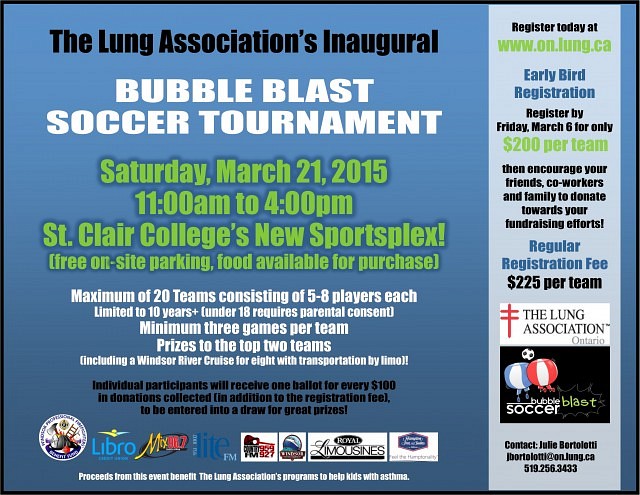 No getaway plans for March Break? No worries, you can still have a blast at home!
Simply grab some friends, family or co-workers (5-8 people per team) and register to play in The Lung Association's Bubble Blast Soccer Tournament from 11am-4pm on Saturday, March 21.
The beautiful new Sportsplex at St. Clair College is the venue where teams of between five and eight people will challenge each other on the floor all while ensconced in big, plastic bubbles – to see who comes out victorious! The winning team will be treated to a Sunday afternoon cruise along the Detroit River (courtesy of Windsor River Cruises) and will be transported there and back by limo (thank you Royal Limousines!).
Register your team by Friday, March 6 and pay only $200 for the opportunity to play a minimum of three games (the registration fee increases to $225 after that date).
Simply go to the events page at www.on.lung.ca to register then invite everyone you know to support you through additional donations (participants will receive a ballot for every $100 raised for a chance to win some other great prizes!).
Lung disease is costing Ontarians their lives and more than $4 billion annually. Right now, one in four Ontarians have lung disease and that number continues to grow. And, as we all know, when you can't breathe, nothing else matters.
All funds raised from this event will support the Lung Association's mission to better educate our local community regarding lung disease and the many forms it can take.
For further information, please call Julie at 519.256.3433 or email [email protected]
Location
Sportsplex at St. Clair College
2000 Talbot Road West
Windsor, Ontario