Date
Thursday June 18th, 2015
Time
8:00am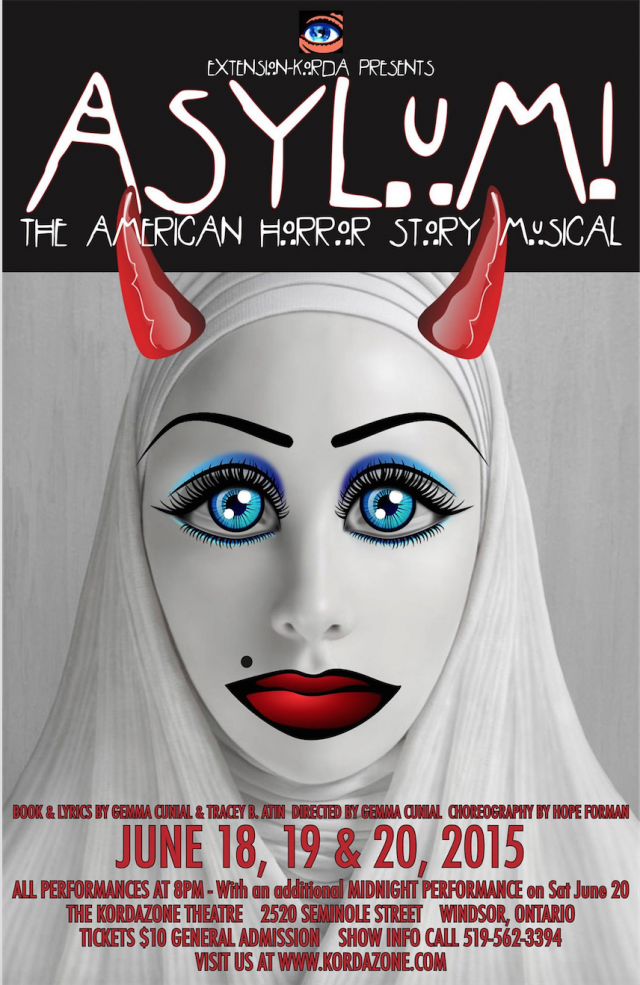 Extension-Korda Presents:
ASYLUM: The American Horror Story Musical
(Windsor, ON) Extension-Korda takes on the hit TV show, American Horror Story with a musical adaption of Season 2: ASYLUM. Written and Directed by Gemma Cunial, with additional lyrics by Tracey B. Atin. Watch as a host of lunatics and nuns sing and dance their way to your heart with music borrowed from great musicals!
Ambitious reporter, Lana Banana is determined to uncover the secrets within Briarcliff Manor, the local asylum, and the truth about Massachusetts's infamous serial killer, Bloody Face. Sisters Jude and Mary Eunice, Briarcliff's head nun and her timid sidekick, welcome Lana and do their best to keep the asylum's secrets safe. When Lana overstays her welcome, Sister Jude gives her a cell of her own. Lana has to stay strong or find a way out… hopefully with the asylum's psychiatrist, Oliver Thredson. This show features performances from Matt Alexander, Tracey B. Atin, Noah Beemer, Gemma Cunial, Lauren Elliott, Hope Forman, Alex Hristoff, Rebecca Latrielle, Veronica Mancini-Cunial, and Talia Ryckman-Klien.
ASYLUM: The American Horror Story Musical runs at The KordaZone Theatre (2520 Seminole Street, Windsor, Ontario), for four performances: June 18, 19, and 20 at 8PM, along with a midnight show on the evening of June 20. Tickets are $10 for general admission and can be purchased at the door. Reservations can be made by calling (519) 562-3394. Doors open at 7:30PM for the 8PM shows, and 11:30PM for the midnight show. For more information, or to arrange an interview or photo, call Tracey at 519-562-3394.
Location
KordaZone Theatre
2520 Seminole Street
Windsor, Ontario