Date
Friday December 13th, 2013
Time
6:00pm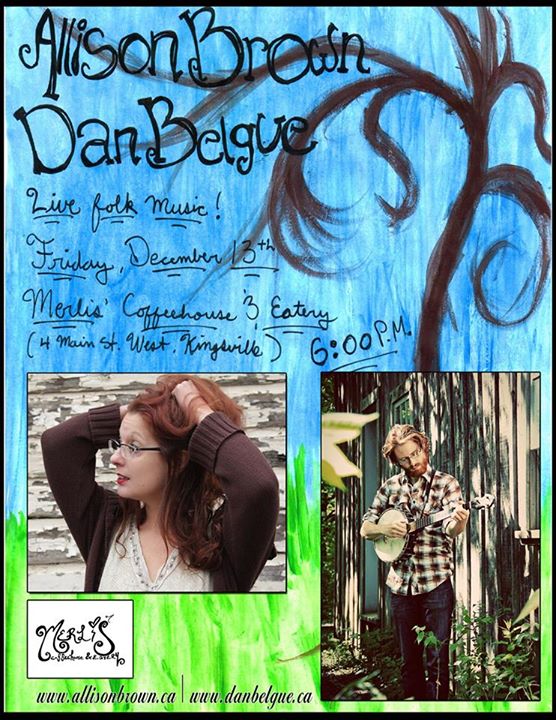 Join us for an evening of great folk and roots music at Merlis' Coffeehouse & Eatery in Kingsville.
On lucky Friday the 13th, come enjoy some tasty food and drink and listen to live folk music featuring Allison Brown and Dan Belgue.
Music starts at 6:00 PM
No cover, just passing a hat!
More info:
Allison Brown
Roots Songstress Allison Brown likes her religion a little bit gritty, takes her country music with a side of syrup and keeps her folk as dusty as the ol' cabin floor. Allison's crafted originals matched with classic roots repertoire reflect the striking conviction she brings to her sweet and powerful singing.
www.allisonbrown.ca
Dan Belgue
Driven by solid, rhythmic instrumentation and thoughtful lyrics, Dan's Belgue's developed his own unique brand of acoustic 'Canadiana' that finds its own place within the milieu of modern folk music. With songwriting sensibilities steeped in the musical traditions of long ago, Dan's playing blends elements from a wide array of influences including folk, bluegrass, old time, and blues music.
www.danbelgue.ca
Location
Merlis' Coffeehouse & Eatery
4 Main Street, West
Kingsville, Ontario