Date
Sunday November 29th, 2015
Time
9:00am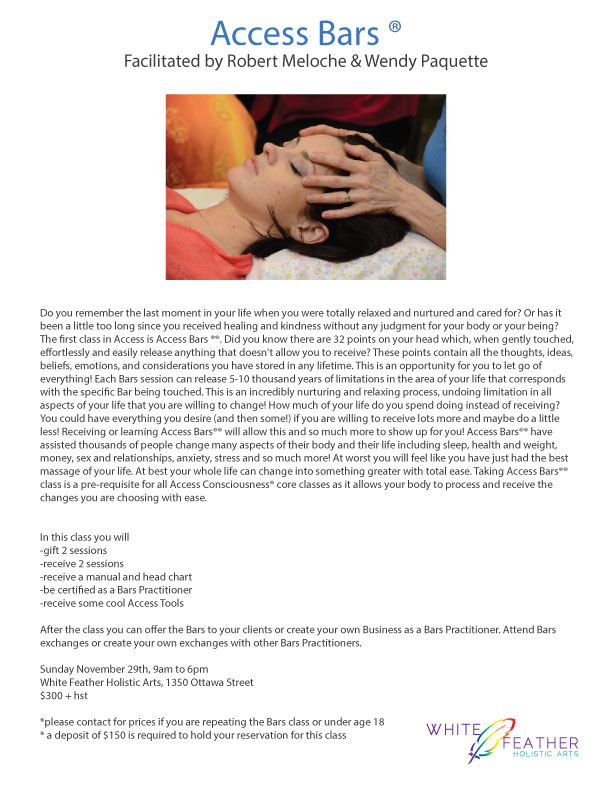 Facilitated by Robert Meloche & Wendy Paquette
Do you remember the last moment in your life when you were totally relaxed and nurtured and cared for? Or has it been a little too long since you received healing and kindness without any judgment for your body or your being? The first class in Access is Access Bars ®®. Did you know there are 32 points on your head which, when gently touched, effortlessly and easily release anything that doesn't allow you to receive? These points contain all the thoughts, ideas, beliefs, emotions, and considerations you have stored in any lifetime. This is an opportunity for you to let go of everything! Each Bars session can release 5-10 thousand years of limitations in the area of your life that corresponds with the specific Bar being touched. This is an incredibly nurturing and relaxing process, undoing limitation in all aspects of your life that you are willing to change! How much of your life do you spend doing instead of receiving? You could have everything you desire (and then some!) if you are willing to receive lots more and maybe do a little less! Receiving or learning Access Bars®® will allow this and so much more to show up for you! Access Bars®® have assisted thousands of people change many aspects of their body and their life including sleep, health and weight, money, sex and relationships, anxiety, stress and so much more! At worst you will feel like you have just had the best massage of your life. At best your whole life can change into something greater with total ease. Taking Access Bars®® class is a pre-requisite for all Access Consciousness® core classes as it allows your body to process and receive the changes you are choosing with ease.
In this class you will
-gift 2 sessions
-receive 2 sessions
-receive a manual and head chart
-be certified as a Bars Practitioner
-receive some cool Access Tools
After the class you can offer the Bars to your clients or create your own Business as a Bars Practitioner. Attend Bars exchanges or create your own exchanges with other Bars Practitioners.
Facilitated by Robert Meloche and Wendy Paquette
Access Bars ® Facilitators
When: Sunday November 29th, 9am to 6pm
Where: White Feather Holistic Arts, 1350 Ottawa Street
Cost: $300 + hst
*please contact for prices if you are repeating the Bars class or under age 18
* a deposit of $150 is required to hold your reservation for this class
Location
White Feather Holistic Arts
1350 Ottawa St
Windsor, Ontario