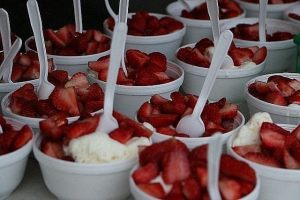 The variety of events that take place over the four days of the LaSalle Strawberry Festival appeal to young and old!
June 9th, 2022 to June 12th, 2022
HOURS:
Thursday June 9th - 6 pm to 10pm
Friday June 10th - 3pm to 11pm
Saturday June 11th - 10:3 am to 11pm
Sunday June 12th - 10am to 4pm
ENTERTAINMENT:
Visit the website for a full listing of weekend entertainment.
PARADE:
The LaSalle Strawberry Festival Parade is held on Saturday at 10am on Front Road beginning at Old Front Road and ending at Sacred Heart Drive.
Admission to the festival is $5 per person.
Free entry for kids 5 years old and under and individuals aged 65 and over
Vollmer Center, LaSalle