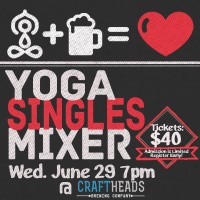 The Yoga Singles Mixer is a low-key, fun approach to dating. With a laid back yoga practice and a bit of liquid courage we create a comfortable and relaxed environment for you to meet your match.
You don't have to be a self-described yogi to participate– just open to meeting someone who potentially will love you as much as they love yoga. The yoga practice will be a fun class geared to everyone, regardless of yoga experience, to help loosen you up help you unwind for the evening.
Following the yoga class will be a social mixer that will include alcohol (for further loosening and unwinding) and the opportunity to chat with other singles through ice breaker activities and find a match for you.
For FAQ and to submit your application, go to samanthamenzies.com
Location
Craftheads Brewing Company
89 University Avenue West
Windsor, Ontario