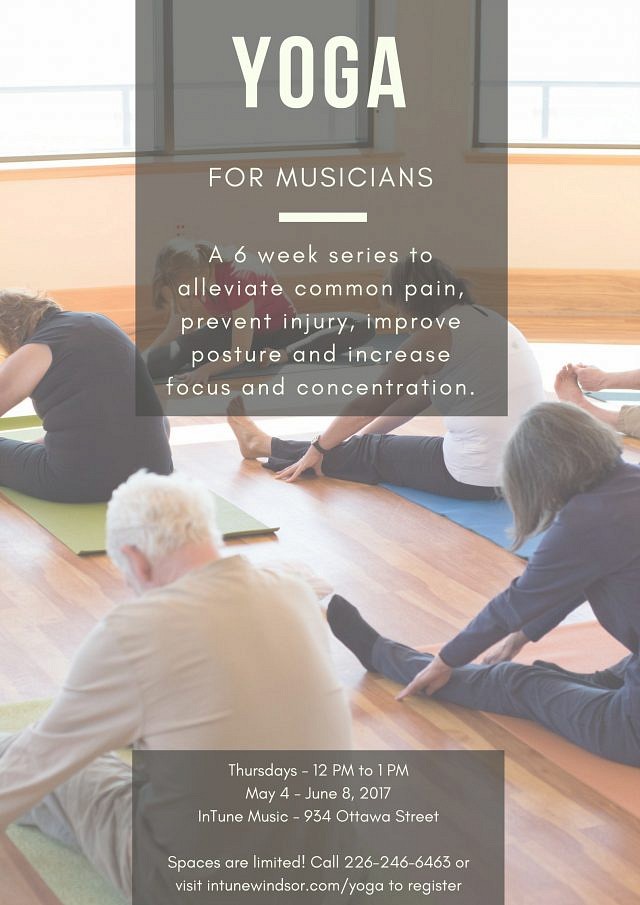 InTune is offering a 6 week specialized yoga series for musicians. The class will be lead by Master Yoga Teacher, Sarah Shapiro.
Time: Thursdays from 12pm-1pm | May 4 – June 8
$90 for 6 week class (pre-register at intunewindsor.com/yoga)
$18/class (drop in – cash only)
BYOYM: Bring your own yoga mat!
Teacher Bio: Sarah Elizabeth Shapiro, RYT, RSW is a Master Yoga Teacher with over 24 years of experience. She has studied many styles of yoga including: Iyengar, Astanga and Vinyasa with some of the world's leading teachers such as, Rodney Yee, Dharma Mittra, Cyndi Lee, and Pattabhi Jois. Sarah studied violin for 8 years and her son is a classical guitarist. Her attention to precision and proper alignment in the yoga postures is perfect for healing and preventing injuries common to musicians.
Location
InTune
934 Ottawa St.
Windsor, Ontario