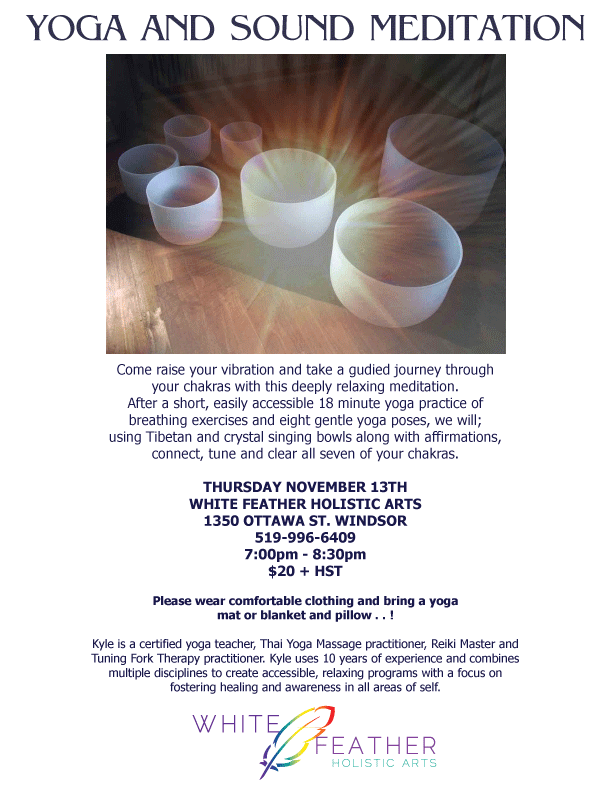 Yoga and Sound Meditation
A guided journey with Kyle Glassford
Come raise your vibration and take a guided journey through your chakras with this deeply relaxing meditation. After a short, easily accessible 18 minute yoga practice of breathing exercises and eight yoga poses, we will; using Tibetan and crystal singing bowls along with affirmations, balance the elements of earth, air, fire, and water. As well as connect, tune and clear all seven of your chakras.
Kyle is a certified yoga teacher, Thai Massage practitioner, Reiki Master and Tuning Fork Therapy Practitioner. Kyle uses 10 years of experience and combines multiple disciplines to create accessible, relaxing programs with a focus on fostering healing and awareness in all areas of self.
$20 + hst
Thursday November 13th
7:00 pm – 8:30 pm
Please contact White Feather Holistic Arts to Register
White Feather Holistic Arts
1350 Ottawa St. Windsor, Ontario
519-996-6409
[email protected]
Location
White Feather Holistic Arts
1350 Ottawa Street
Windsor, Ontario