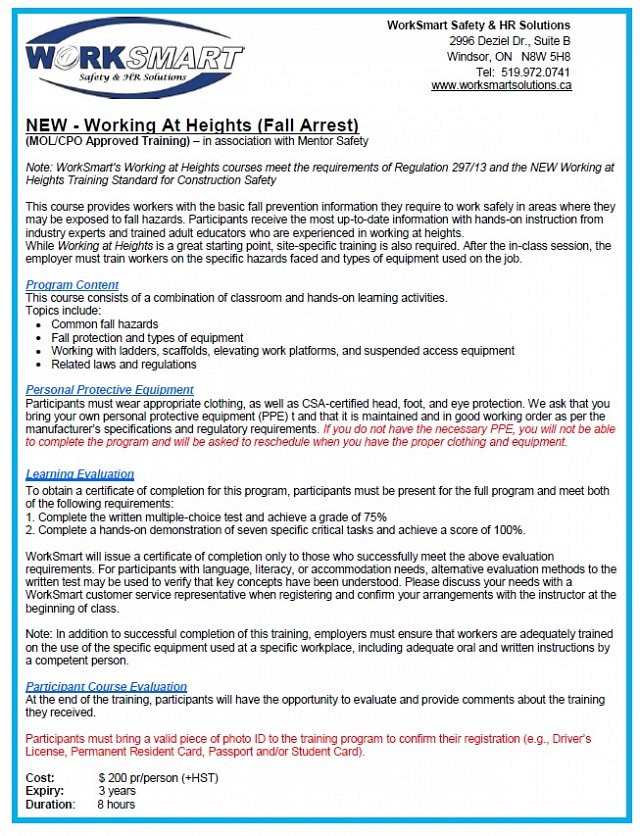 8 hour course 8:30 am – 4:30 pm
Cost: $200.00 per person + HST
Please call Jenny Obermok
519.995.8304
People wishing to participate in course must call and pay ahead to guarantee spot in class. Limited number of attendees allowed per class. We accept credit card, debit and cash.
Participants must bring a valid piece of photo ID to the training program to confirm their registration (e.g., Driver's License, Permanent Resident Card, Passport and/or Student Card).
Personal Protective Equipment: Participants must wear appropriate clothing, as well as CSA-certified head, foot, and eye protection. We ask that you bring your own personal protective equipment (PPE) t and that it is maintained and in good working order as per the manufacturer's specifications and regulatory requirements. If you do not have the necessary PPE, you will not be able to complete the program and will be asked to reschedule when you have the proper clothing and equipment.
Location
WorkSmart Safety & HR Solutions
2996 Deziel Drive - Unit B
Windsor, Ontario