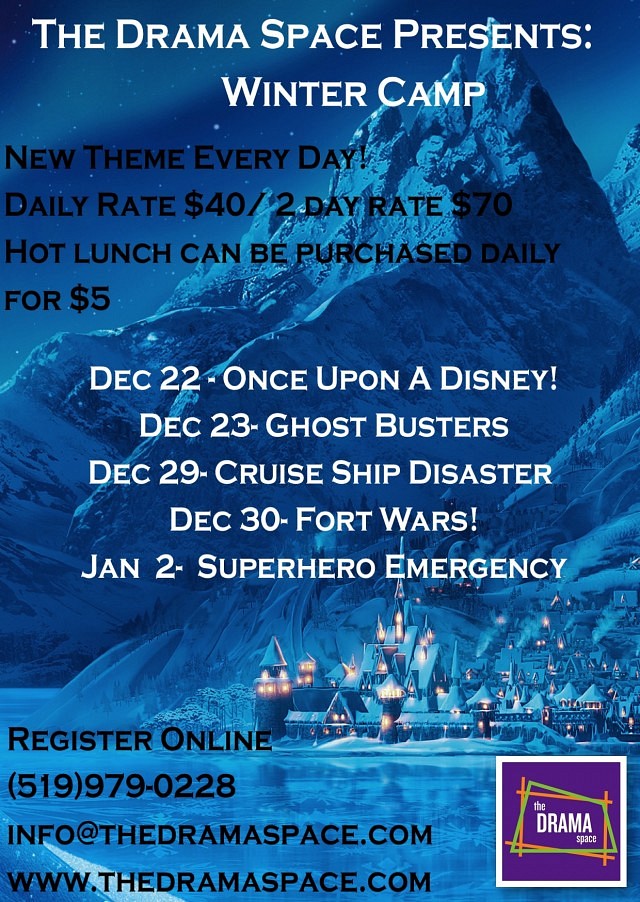 Sooooooooooooooo, are you having difficulty finding the time to wrap those gifts and getting ready for the holidays? How about a whole day knowing that your child is safe and entertained allowing you to get all those last minute things done?
We have the answer for you! The Drama Space is running Holiday Day Camps on December 22 and 23rd. And then after the Festivities are over, there are 3 more Day Camps to allow your child to just have fun on December 29th, 30th and January 2nd, while you take a breather and get everything back to normal.
One day of camp is $40 for 1 day, 2 days for $70 or 5 days for only $170.
The Camp will begin at 9:00 am and will run till 4:00 pm. We are also offering free early drop off from 8:00 am until the start of the program and also late pick up from 4:00 – 5:00 pm. Our daily themes are:
Once Upon a Disney
Do you love Disney? Then join us for a Disney-extravaganza this winter! In this one day camp be prepared to learn the chorography for the Hoedown Throwdown, learn to "Let it Go" as you belt out tunes from Frozen and even learn how to draw the one and only MICKEY MOUSE!
Ghost Busters
When there's something strange in the neighbourhood, who you gonna call? Well we were hoping YOU would come to our rescue this day of camp and become JUNIOR Ghost Busters! Create your own Ghost hunting equipment, find the ghosts and send them packing! Do you think you have what it takes?
Cruise Ship Disaster
It's a perfect day at sea and everyone is having a blast on the ship when, out of nowhere, the ship hits an iceberg and is going down fast! Survive a cruise ship disaster and live to tell the tale! It's all about learning survivor skills to make it off of this ship in one piece.
Fort Wars
Have you ever dreamed of creating the biggest blanket fort in history! Then get ready for Fort Wars! Where you will need to put your building skills to the test as we build massive blanket forts and see who can build the biggest and the best!
Superhero Emergency
Superman? Batman? Spiderman…….? ANYBODY!
The city of Safeville needs your help! The evil Dr. Strange has built up an army and captured all of our local heroes. Now we need YOU! Train with us at our top-secret academy and we'll turn you into the next big superhero to help save the day!
Location
The Drama Space
3200 Woodland Ave
Windsor, Ontario