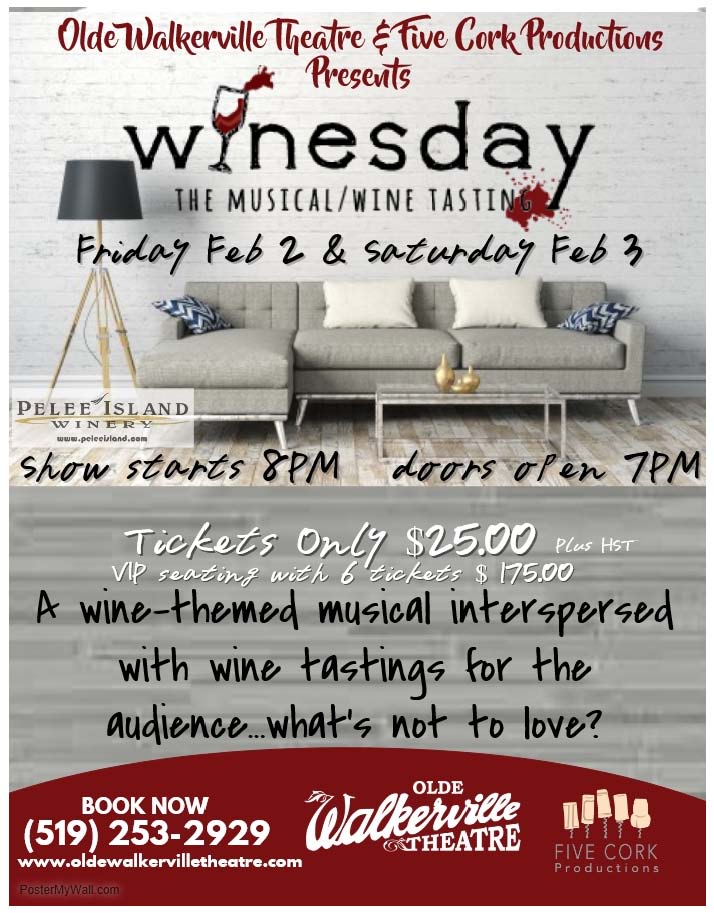 WINESDAY, a new musical/wine tasting experience coming to Olde Walkerville Theatre
Winesday, a new musical created and performed by regional talent will be onstage at the Olde Walkerville Theatre February 2nd and 3rd, 2018. Presented by Olde Walkerville Theatre and Five Cork Productions, WInesday is not just a musical, but also a wine tasting experience for the audience.
Conceived when sitting around an oversized couch drinking a fair amount of wine, the show is about a group of five friends who get together every Wednesday night.
Theoretically they're meeting for a book club, a yoga class or something else each week, but really they just want to drink wine and talk about their lives. The show is broken into four different "Winesdays" and before each one the audience enjoys a wine tasting – each selected and sponsored by Pelee Island Winery.
Winesday was created by bookwriter/lyricist Jenne Wason and composer Joseph Benoit, who previously collaborated on The Littlest Rockette. Wason has written the book and lyrics for several musicals with composer Alan Cancelino including The White Rose and Bingo City, both of which have been produced in New York City.
Before and after earning his music degree from University of Windsor, Benoit has had several of his works recorded and broadcast by Radio-Canada (CBC French) with his Franco-Ontarian pop band awi, as a solo artist and as a guest producer for other Southwestern Ontario artists.
The Olde Walkerville Theatre is just the second venue the where the show will be featured. Its premiere run sold out at the Chatham Capitol Theatre this past November.
Co-director/performer Jamie Johnston said, "We're looking forward to bringing the show to Olde Walkerville for our next run. This gem of a theatre is a perfect fit for the show and we know Windsor/Essex audiences are going to love it."
The five friends featured in Winesday are played by Sally Henley, Jamie Johnston, Alysson Storey, Larissa Vogler, and Jenne Wason. Josh Reaume also makes a special appearance. Johnston and Vogler are co-directing the piece, working alongside musical director Tom Overton, who has partnered with Johnston on several regional productions including Spamalot and White Christmas. Overton is conducting the band, which includes Benoit on piano/keyboard, Jim Brown on guitar and banjo, John Revell on bass and Dan Davidson on drums. Keeping the cast and crew organized is Stage Manager Tracy Morton.
Tickets are on sale now at the Olde Walkerville Box Office Fridays from 11:00 am to 7:00 pm. Call 519-253-2929 or stop by the theatre at 1564 Wyandotte St. E.
Tickets can also be purchased anytime online at www.oldewalkervilletheatre.com.
For more information visit https://www.oldewalkervilletheatre.com/ or http://www.winesdaymusical.com.
Location
Olde Walkerville Thearte
1564 Wyandotte St E, Windsor, ON N9A 3L2
Windsor, Ontario