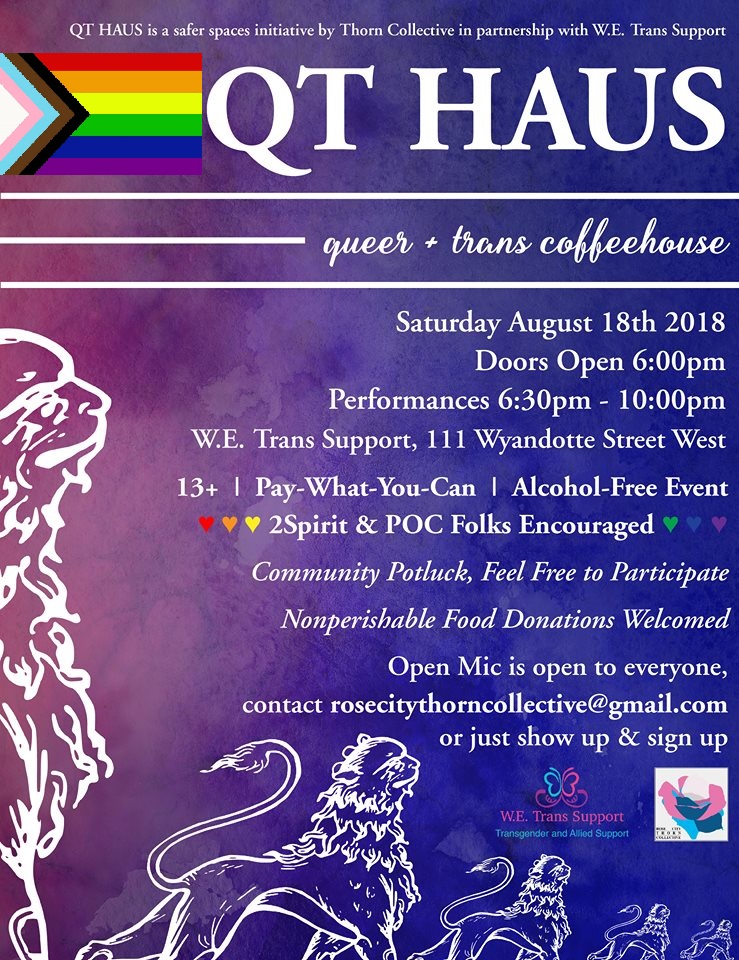 QT HAUS.::.
Windsorites! Come and join us for this 3rd edition of our city's only Queer & Trans Coffeehouse. Poetry, music, spoken word, comedy, drag, flare! Bring your art & your fire for our open mic segment. Allies welcome, 2spirit and POC folks encouraged. This venue is fully accessible by wheelchair.
♥ Saturday, August 18th [email protected] 6pm, show @630.
♥ 111 Wyandotte St. West aka W.E.Trans* Support
♥ PWYC, cash donations appreciated, no one will be turned away for lack of funds
♥ Ages 13+
♥ Coffee, tea, food 4 u, pls bring ur own mug if u can
♥ Food is a potluck style supper/ feel free to bring something if you can and would like to! (if you're bringing a thing, please list ingredients and try to let us know what it is beforehand!)
♥ Alcohol-free event
♥ Allies are invited
♥ Doors @ 6, sets @ 630
sets,poems,art, performances by local creative queer & trans artists:
Lita Leciago
Yasmin
Leo Fiore
Gina Bedingfield
Mel Lucier
Reginald Tolson
JSea Like The Ocean
& more ♥
Open mic is open to anyone! Contact an event host, email [email protected], or just show up for signup.
***QT-HAUS is part of an ongoing safer spaces initiative endorsed by Thorn Collective in partnership with W.E. Trans Support. Please review this document with info about the venue and our safer spaces initiative, and reach out to us with any concerns regarding safety, accessibility and inclusion♥
https://docs.google.com/document/d/10xrhV483Pxe6YWyMUCs-5hxEFiktvIjVo4HxAfHptDc/edit?usp=sharing
Location
Windsor Essex Trans Support Centre
1111 Wyandotte West
Windsor, Ontario