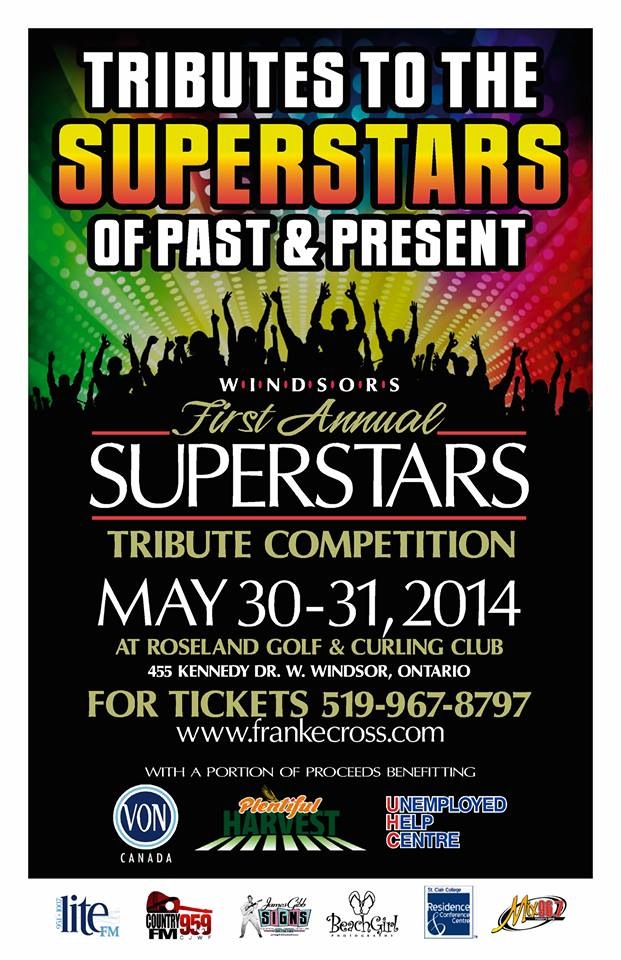 Ticket Information
Individual Tickets are $20.00 for First Round
Individual Tickets are $20.00 for Second Round.
Tickets for Finals including Saturday Night Superstars Show $30.00
(Does not include Dinner)
Weekend Pass without Saturday evening dinner $50.00
Weekend Pass with Saturday evening dinner $60.00
Pasta Dinner will follow Finals
(Buffet Style Pasta Dinner 3 kinds to choose from, Salad, Roll. Coffee & Tea Incl.)
Portion of the proceeds will benefit VON Seniors Health Programs and Plentiful Harvest at the Unemployment Health Center
This proves to be a fun filled event. Come out and be part of the fun!
Door Prizes and 50/50 weekend draw.
* Please bring a non perishable food item. You will receive 1 ballot per item donated for our raffle.
Weekend Schedule
First Round will be Friday May 30 at 7:30 pm. Contestants will sing one song with tracks. Open mic to follow.
Second Round will be held on Saturday May 31 at 12:00 pm. All contestants will sing two songs with tracks. There will be a break after the Second Round.
Results will be announced the top 5 will continue to the finals.
Finals will be at 3:30 pm
1st Place Winner to become part of the Superstars Tribute Show
Pasta Dinner to follow
Saturday Night Superstars Tribute Show
8:00 pm
Featuring; Multi Award Winning Tribute Artists James Gibb (50's Elvis),
Roy LaBlanc (Roy Orbison & Johnny Cash), Frank Cross (70's Elvis)
Ist Place Winner
Competitors will see results after each Round. The scoring is accumulated for First and Second.The Board will be in Alphabetical order and placement of the competitors will be next to their names. All score sheets will be handed to each competitor after completion of competition.
1st Place $1000 + Headliner for the 2015 Competition
2nd Place $600.00
3rd Place $300.00
4th Place $150.00
5th Place $100.00
Location
Roseland Golf & Curling Club
455 Kennedy
Windsor, Ontario