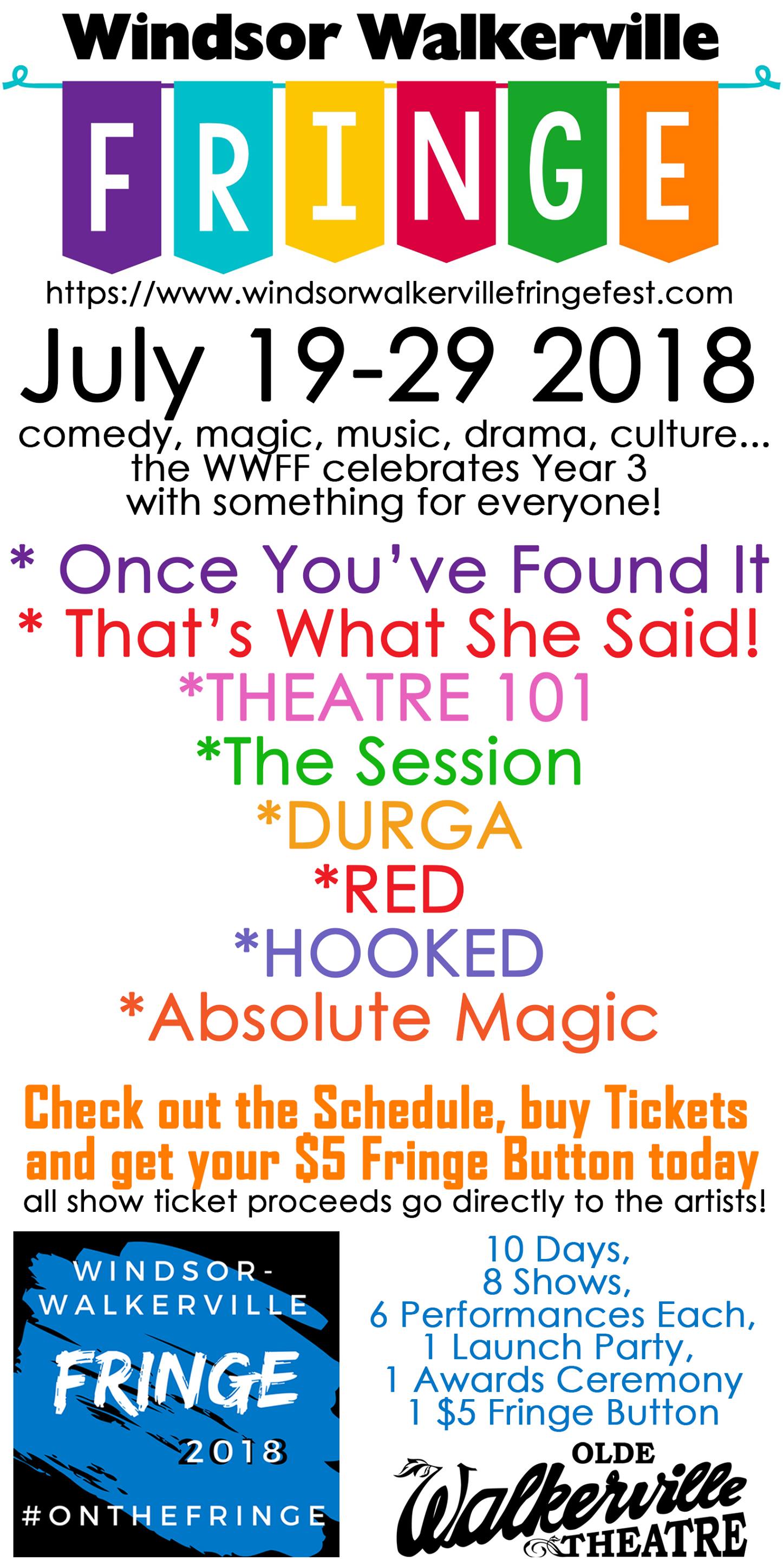 FESTIVAL VENUE: The Olde Walkerville Theatre
Tickets can be purchased online and at the special Windsor-Walkerville Fringe Festival Box Office across the street from the theatre.
ABOUT WWFF
The Windsor-Walkerville Fringe Festival is a member of the Canadian Association of Fringe Festivals (CAFF). The Canadian Fringe Festival model is unique in two respects: it guarantees that the artists involved receive 100% of ticket revenue and it does not subject the artist' work to jury approval or censor it in any way. Theatre companies are selected by non-judicial means and work within the technical guidelines of the Fringe Festival to produce their own art. Festival patrons enjoy physically and financially accessible arts experiences and the opportunity to engage in meaningful dialogues with artist and fellow Fringe patrons.
FRINGE MANDATE
The Fringe's mandate is to afford all artists the opportunity to produce their art, regardless of the experience, content, form or style; and to make the event as affordable and accessible as possible for the community. The result is a vibrant and exciting artistic environment where the audiences – not juries – decide which are good shows, the bad shows, and the extravagantly awful shows.
SPECIAL NOTE:
Entry to the Festival requires the purchase of a FRINGE BUTTON; this one time purchase can be made at the special BOX OFFICE set up across the street from the Olde Walkerville Theatre when the festival begins. Buy your button once and wear it to all shows for which you have purchased a ticket. In fact, wear it for the duration of the WWFF all over town to show your support for Year 3 of this edgy and fun performance festival!
Location
Olde Walkerville Theatre
1564 Wyandotte Street East
Windsor, Ontario